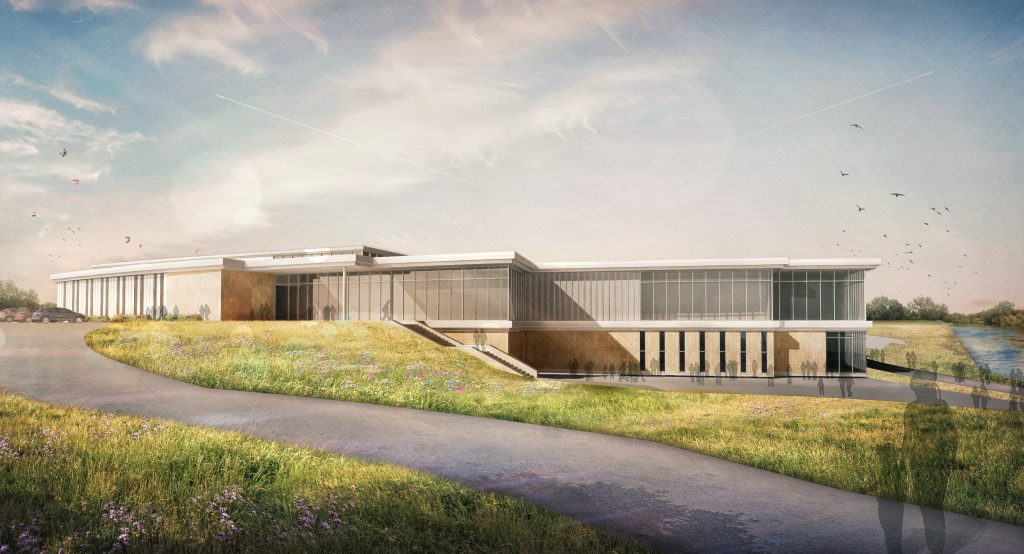 The Indianapolis Parks Department has preliminarily agreed to pay nearly $1 million per year to lease space in a new family center planned for Broad Ripple Park.

The parks board on Tuesday unanimously signed off on a 30-year lease to occupy 25,000 square feet inside the proposed center, which would be constructed through a public-private partnership with BR Health Holdings LLC.
The two-level facility also is expected to have a 15,000-square-foot medical clinic operated by Community Health—a partner in BR Health with local firm Avenue Development LLC. The city will retain ownership of the land beneath the building.
The $19.66 million building will replace the existing 11,000-square-foot center, which opened as the Broad Ripple library branch in 1986. Parks officials say the facility is at the end of its useful life and too small to accommodate the community's needs.
The effort is part of a larger master plan for Broad Ripple Park that includes a new outdoor aquatic area, a revamped river walk and updated sports fields, among other improvements.
The Indy Parks lease calls for base rent of $79,900 per month—about $958,000 per year—starting in the second year. Thereafter, rent will increase by 2% annually, to $1.7 million by the end of the 30-year term.
Two 10-year renewal options in the lease would mean Indy Parks could pay about $81 million over the life of the lease, including more than $2.5 million alone in its final year.
Additionally, the city and BR Health Holdings are working toward a project agreement, which Indy Parks Director Linda Broadfoot said is likely to be finalized in the next several weeks.
Project agreements are critical components in public-private partnerships because they provide specific and legally-binding guidelines for how a development should be completed and how it may be used.
Indy Parks Director Linda Broadfoot said such an agreement will also permit Indy Parks to curtail its rent obligations to BR Health, since the parks department intends to buy the building outright "as soon as we can after the one-year abatement period."
"There will be a purchase option in the project agreement," Broadfoot said. "Once the city owns the building, then it would be the landlord, with Community Health as the tenant. We wouldn't be a lessee, so we wouldn't be paying rent anyway."
She said financial details—including the price and funding sources—for buying the building are still being finalized.
In addition to base rent, the lease includes several other parameters: BR Health is giving a one-time $250,000 furniture, fixtures and equipment allowance to help Indy Parks build out its space. It will also pay for riverbank stabilization, parking lot improvements and demolition of the old facility.
The parks department will cover its own utilities and share common space expenses with Community Health.
The lease itself still must be approved by City-County Council. It is expected to be sent to the council's parks and recreation committee Thursday, with a final council vote June 8.
While the public input portion of Tuesday's parks board meeting included some individuals supportive of the development, most expressed an opposition to the project and the associated lease.
The family center is expected to be completed by June 30, 2022—a year later than initially scheduled, because of COVID-19. Broadfoot said planners were hoping for an early 2021 groundbreaking.

"There's a gazillion puzzle pieces to this project," Broadfoot said. "This is just the parks lease part of it."
Please enable JavaScript to view this content.