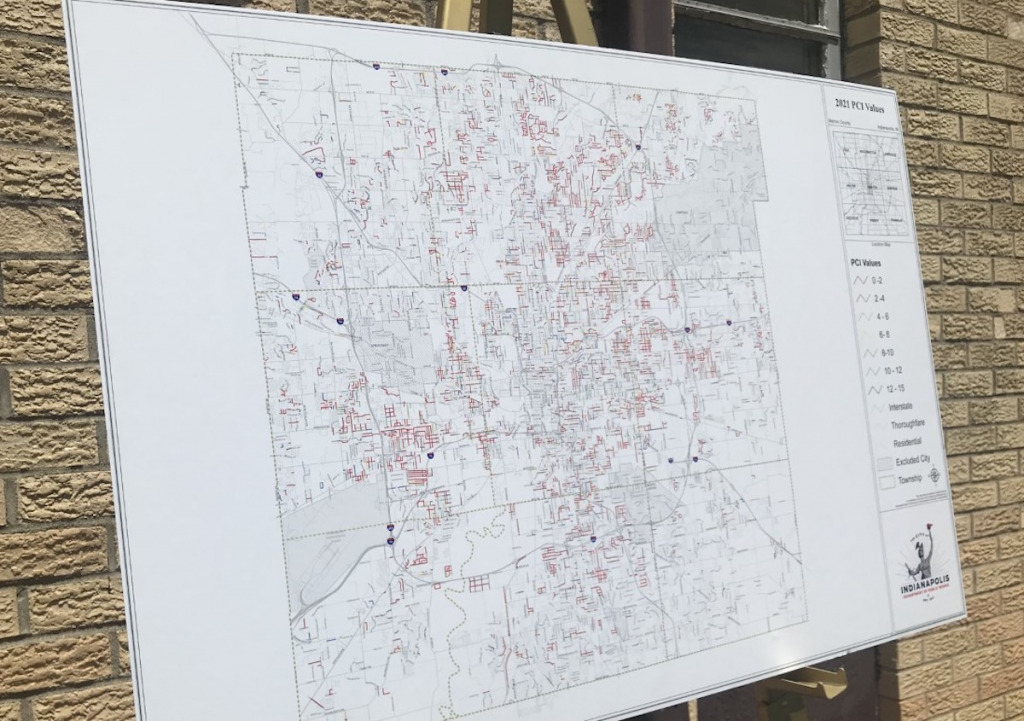 Some of Indianapolis' most battered stretches of residential streets could get makeovers as soon as spring 2022 under a $25 million program that city leaders announced Thursday.
But the program—the second phase of the city's "Circle City Forward" infrastructure and community investment initiative—will only repair a small percentage of roads that are in poor condition, officials acknowledged.
Earlier this year, as part of the program's first phase, the city devoted $190 million to a series of community development projects.
The Department of Public Works inspects all of Indy's streets every few years and focuses its repairs on the busiest roads that are in the worst condition, said Mayor Joe Hogsett at a news conference in the Forest Manor neighborhood. But that doesn't always leave money to address the less-busy residential streets sorely in need of repairs.
"After five years and nearly $400 million of massive improvements to major thoroughfares, we can deliver capital improvement dollars to less traveled roadways right outside our front doors," Hogsett said. Residential streets, he added, "may be less traveled, but they are still hugely important to the families that use those roads daily."
The project will tackle Indy's most dilapidated residential streets.
The city has identified 605 lane miles across Indianapolis with a pavement condition index of 0-15, out of a scale that goes to 100—and there are "a lot of zeroes on the list," according to DPW Director Dan Parker. The index was originally developed by the U.S. Army Corp of Engineers.
"This is not filling chuck holes. It is actual, real reconstruction of the streets," Parker said. "This is not going to be just, 'Let's throw some asphalt on top and make it look good.' … Some of these streets have not been touched in over 40 years, and they deserve to be completely rebuilt."
The $25 million will cover about 10% of the residential lane miles in question, or about 60 lane miles, and won't involve sidewalks or other roadside projects. Fixing them all would take $257 million, according to DPW.
The money will come from city's rainy day fund. Officials said that with federal American Rescue Plan funding on the way, the city can tap into some of the cash it's saved.
All 25 city-county districts will get $200,000 each to put toward the road rehab. Each will also receive additional money via a DPW funding formula, which considers total need, since some districts have more miles to fix than others. The formula also includes median household income as part of the city's push for equitable investment.
"In one of our most disenfranchised neighborhoods, we finally feel heard," said Ashley Gurvitz, executive director and CEO of the United Northeast Community Development Corporation. "… We know that if we are all working together, our roadways should be clear and smooth and reach every single doorstep."
The initiative was introduced as part of a proposal at a full City-County Council meeting Monday and passed the Public Works Committee Thursday evening. The proposal will up for consideration at the next full meeting in June—if approved at that session, construction could start as soon as spring 2022, Parker said.
Please enable JavaScript to view this content.