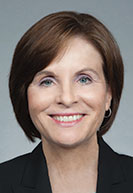 Moira Carlstedt, president and CEO of the Indianapolis Neighborhood Housing Partnership for 24 years, plans to retire from her position later this year, the organization announced Tuesday.
Carlstedt, 68, plans to step down when a successor is hired, which is expected this fall, the INHP said.
"INHP's board of directors will be conducting an executive search to ensure INHP has a trusted and skilled leader moving into the future who continues to expand INHP's engagement in affordable housing and community development in the Indianapolis community," the group said in a written statement.
The not-for-profit INHP provides Indianapolis residents with education, financial advising and affordable mortgages to purchase or repair homes. In recent years , it has become one of the busiest developers of single-family houses in the city, using millions of dollars in tax credits to build dozens of properties in central neighborhoods.
Before joining INHP, Carlstedt spent two years as director of the Department of Metropolitan Development. Prior to that, she spent 10 years in the real estate industry at Citimark Management Co. and four years in the banking industry with Northern Trust Bank in Chicago and Indiana National Bank in Indianapolis.
"While I am retiring from INHP, I will remain engaged in the nonprofit world, likely in the areas of affordable housing, community development and nonprofit management," Carlstedt said in a written statement. "Experience has taught me to remain intellectually curious and open to new ideas and opportunities."
Please enable JavaScript to view this content.