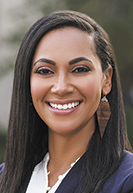 Instead of observing teachers and loading students onto buses on a recent Friday afternoon, Indianapolis Public Schools Principal Andrea Hunley donned her walking shoes and campaign shirt to ask for people's votes.
Besides leading Center for Inquiry School 2, Hunley is running for state Senate in the May 3 primary.
At the first house she approached in Martindale-Brightwood, she found a familiar face: The mother of a former student. Parent Jenni Bliss said her now-high school senior was about to graduate and travel abroad.
"She's always been such an independent spirit," Hunley said, momentarily shifting from political candidate to involved principal.
"We'll definitely be voting for you," Bliss said.
Hunley thanked her. "Will you please tell three friends about our campaign?" she added. "It's going to be close."
Hunley, 38, is hoping to beat out four opponents in the Democratic primary to win a chance to represent a newly-created Indianapolis district covering the attendance area of her current and former schools. She's touting her experience as a working educator who can bring needed perspective to legislative debates about curriculum, teaching, and mental health.
It's not surprising that with no incumbent to claim advantage, the new district has drawn a crowded field, said Laura Merrifield Wilson, an associate professor of political science at the University of Indianapolis.
The Marion County Democratic Party has endorsed City-County Councilor Kristin Jones, who as of April 18 leads in fundraising with around $117,000 raised to Hunley's $75,000, according to the Secretary of State records.
The other candidates include Ashley Eason, who has worked for nonprofits focused on global issues and recently ran a close state House race; Karla Lopez Owens, the director of community outreach at the Marion County Prosecutor's Office; and Bobby Kern, a frequent political candidate.
Fundraising is a key predictor of outcome—two out of three times the candidate with the most money wins, Merrifield Wilson said. But other factors sway voters, too.
"The person who wins, they're able to communicate their message," Merrifield Wilson said. "It's not just policy, it's the person."
She described Hunley as a competitive candidate.
It can be difficult for most working people to find time to run a successful campaign, but such campaigns are important to diversifying the statehouse, Merrifield Wilson said. Anecdotally, more educators are becoming involved in politics as politics becomes more involved in education.
"It's not hard for a lawyer to make this decision, it's more of a risk for her," she said about Hunley.
The primary winner will go on to face the sole Republican candidate, Evan Shearin, in November's general election. District 46, a horizontal slice of Indianapolis stretching from Fountain Square to Irvington, leans heavily Democratic.
If Hunley wins the seat, she plans to split her time between school and the statehouse. While campaigning, she has largely handed daily operations over to an assistant principal at the Center for Inquiry School 2 downtown, which serves 439 pre-K to eighth grade students.
Hunley believes the legislature needs more working educators to weigh in on issues like a K-12 funding formula, gun violence and its effects on student mental health, and the recent effort to restrict teaching about race and racism.
Looking at the map of the new district reminded Hunley of families she knew.
"I have to run now, because I carry their stories with me of the struggles they face every day," she said.
At the next house in the row of newly built homes, Hunley knocked on the door to ask, "Is it important to you to have more educators in the legislature?" she asked.
"Absolutely," said the resident, Kelly Hill-Aronoff, adding that she had served as a director of early learning. The two chatted about the changes and challenges to schools during the pandemic, and Hunley asked her to volunteer.
Hunley campaign volunteer Suzanne Pritchard, the mother of two students at CFI 2 and wife of IPS commissioner Will Pritchard, accompanied the candidate in canvassing.
Suzanne Pritchard said she wholeheartedly supported Hunley's candidacy after seeing her cool and calm at the helm of the school, especially during COVID. If she could run a tight ship in a public school system, Pritchard said, she was an excellent choice for the statehouse.
Hunley said she always intended to run for office. A foster child who was adopted at a young age and grew up in Fort Wayne, she was voted in high school most likely to become the first woman president.
She moved to Indianapolis after college to teach English at Ben Davis High School. There, she integrated support for English learner students into their general education classes—a less common practice in the early 2000s. For the last 10 years, Hunley has served as the principal of CFI 2.
While Hunley is away campaigning, the campus still feels her presence.
The school newspaper featured her story. Students wear her campaign T-shirts, and families have volunteered to knock on doors and make phone calls.
Assistant Principal Micah Nelson meets weekly with Hunley to discuss school issues, and Hunley has returned to help when the school is short-staffed, like when Nelson herself got COVID.
Nelson said she felt comfortable taking over the school because of Hunley, who put her in leadership roles as a teacher and then encouraged her to pursue her administrative license—something Nelson said she never would have considered before coming to CFI 2.
Nelson said families may have been anxious about the popular principal stepping back, but they seemed to understand the tradeoff.
She said they will re-evaluate the arrangement after the primary.
"Staying connected to the school community has been really important to her," Nelson said. "I think that has empowered her campaign, because I think it reminds her why she's running."
Over the legislative session earlier this year, Hunley headed to the Republican-dominated Statehouse to speak on contentious education issues.
She argued against a controversial and ultimately unsuccessful bill to restrict teaching about race and racism.
When junior Eliza Bradbury wanted to write letters to state representatives about the bill, HB 1134, she emailed her former principal for help finding their addresses. Hunley replied almost immediately.
"She seems like she has infinite time in her day," Bradbury said.
At the Statehouse, Hunley also ran into a student from her first year of teaching, who was lobbying against the bill.
Greylor Walston, who works for a teachers union, remembers how Hunley could make dense English class material feel engaging.
"Any time we can get perspective on these disastrous bills like 1134 is really important. As legislators, they will listen to their colleagues before the public can provide testimony," said Walston, a National Education Association organizing fellow who now volunteers for Hunley's campaign. "I hope she's part of a new wave of teachers becoming more politically active."
If elected, Hunley said she would prioritize education issues, like a weighted funding formula to allow all public schools to offer robust art and STEM programming.
Another pressing need is recruiting and retaining teachers, she said. With 700 teaching positions open statewide, Hunley said it's critical to have educators in office to address the issue.
"It's clear our voice has been missing. By the time laws hit the House or Senate floor, many legislators have already made up their minds," Hunley said.
Hunley also testified against the state's permitless carry bill, which passed into law. She recently attended the funeral of one of her former students who was shot and killed.
"The people who are currently in our state legislature are well-meaning people, but none of them grew up in Fort Wayne on a street riddled with gun violence, who live with this fear that at any moment, one of my kids could be shot," Hunley said. "Because as a principal, they're all my kids."
Chalkbeat is a not-for-profit news site covering educational change in public schools.
Please enable JavaScript to view this content.