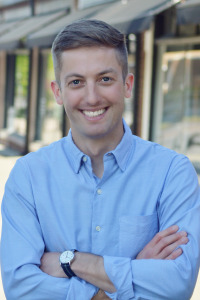 An Irvington resident and policy analyst plans to run as a Democrat for City-County Council District 14, his campaign announced Wednesday.
Andy Nielsen is the first council hopeful to announce a candidacy for 2023's elections, but the race for the east-side seat he's aiming for is already thinning out.
Nielsen is a senior policy analyst at the Indiana Community Action Poverty Institute. He's worked in research and policy for almost a decade, with roles at TechPoint Indiana, the U.S. Senate and the Rhode Island Governor's Office, among others, according to his LinkedIn page. He hasn't held public office before.
"We need to be doing more for the east side," Nielsen said. "You know, addressing our crumbling infrastructure and public transportation, addressing public health and safety and finding ways to make our community more vibrant. And after further consideration, I feel strongly that I would be a good city-county councilor to achieve those things."
In addition to his regular job, Nielsen is chair of the Metropolitan Development Commission Plat Committee and treasurer of the Irvington Development Organization.
He'll run in the new version of District 14, part of a once-a-decade redistricting process that concluded last month. The new district includes parts of Irvington, Eastgate, East Warren and other neighborhoods.
It also includes two incumbents: District 19 Councilor David Ray and District 12 Councilor Jason Larrison, both Democrats, who were drawn into the new District 14.
But Larrison told IBJ on Wednesday that he doesn't plan to run for reelection, citing "capacity between holding down a regular job and the council" position. Larrison is an executive at consulting firm J.S. Held.
Ray, however, will run.
The Irvington native said his current district, 19, had him largely outside the neighborhood, and that he viewed the newly drawn 14 as an opportunity to serve it.
"I'm just excited for the opportunity to come back home and be councilor for Irvington and for other east-siders," Ray said.
Nielsen, meanwhile, said he began thinking of running in the early days of redistricting, and after community leaders from approached him about running.
Support from the Irvington Community Council, Irvington Development Organization and others was "incredibly motivating," he said.
Nielsen said he declared his candidacy a year and a half ahead of election day believing that voters should know about candidates' intentions early.
"I think that a long campaign provides plenty of opportunities for candidates to project their vision and connect with folks so that when voters are going into their vote centers … they're making the most informed decision possible," Nielsen said. "So I think that, as candidates, we need to not be shy about wanting to step up."
Nielsen, who graduated from Columbus North High School in Columbus, Indiana, and has an economics degree from Indiana University, will kick off his campaign at at an event Friday evening.
Please enable JavaScript to view this content.