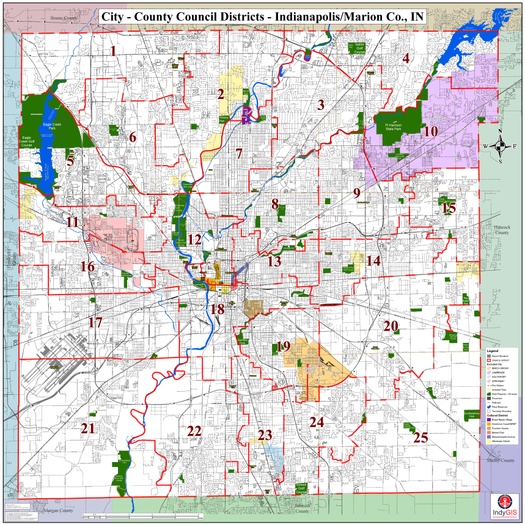 The redistricting map proposal from the City-County Council's Democratic supermajority could result in at least one more Republican-leaning seat and another Black-majority district.
The map ordinance—released Friday as part of the council's agenda and formally introduced Monday—could also fold four Democratic incumbents into two districts, Democratic leaders confirmed Monday.
The proposal maintains 25 districts in Marion County, where Democrats now hold a 19-5-1 advantage in seats.
The council's Rules and Public Policy Committee is scheduled to hear the proposal—and public comment—at an April 12 meeting. The full council is expected to vote on it in May.
The new map is due to the state in early November. Voters will use the maps in November 2023 for legislators who will take office in 2024.
"We wanted to show how [redistricting] can be done when we don't go behind a closed door and we engage the public and we ask for their input, and we make that input public," said President Vop Osili, referencing a 10-part public forum series and resulting summary report.
Indianapolis law firm Ice Miller generated the maps based on the report and other parameters from the council, which faced calls from Republicans and an elections watchdog to use an independent commission instead. Ice Miller's contract was worth $300,000.
"Our job was to create districts that would serve the public, not the party," Vice President Zach Adamson said when asked about potential new Republican seats. "That's one of the things that I tried to make clear when people would talk to me about an independent commission is, you know, give us a chance. I mean, you can complain about independence or not, but wait until you see what we do first before you complain about it."
Council Policy Director Brandon Herget, part of the team that serves all 25 council members, said Ice Miller used Census data, including on population, ethnicity and age, to draw the maps.
"I want to be crystal clear on one thing: There was absolutely no political data used in this process whatsoever," Herget said.
Osili said the changes reflected demographic shifts.
A newly drawn district on the city's south side and potentially one on the north side could lean Republican.
Minority Leader Brian Mowery, a Republican, said the map hasn't been finalized yet, so he'd wait to make a judgment.
"I'd love that, absolutely, if we could pick up a couple seats," he said. But until the map is finalized, "I don't know that I can 100% be celebrating victory, picking out furniture, if you will."
The council also added a fourth majority-Black district.
The full list of majority-minority districts includes the new versions of districts 1, 5, 6, 8-11 and 13-15, according to Herget.
The new maps draw four Democrats together.
Under the proposal, councilors Monroe Gray and Keith Potts would be in the same district, as well as councilors David Ray and Jason Larrison.
Mowery said he was "happy to see" that none of the incumbents drawn together were Republicans.
Some communities are reunited into single districts.
Adamson said the map Republicans drew in 2011, which saw Fountain Square, Irvington and other areas split across districts, made it harder to engage with constituents.
"You don't understand how difficult things like that are to an elected official, when you're trying to be of service to a community and they've got three different people and [residents don't] know where those lines are," Adamson said in reference to Fountain Square, which he partially represents.
"Partisan maps—while maybe good for political aspirations—it's terrible for public service," he continued. "And it makes it really difficult for us because they divide based on outside purposes rather than populations."
Mowery, meanwhile, said he wished council Republicans had been allowed more input, although he acknowledged they'd been able to see the map several days before release.
"We were involved as much as [Democrats] felt we needed to be," he said.
Please enable JavaScript to view this content.