Isaiah Kuperstein, the longtime owner of the Indianapolis-based Double 8 Foods grocery chain and the first director of education for the U.S. Holocaust Memorial Museum, died on Saturday after a 10-day battle with COVID-19, his family announced Monday.
The Carmel resident was 70 years old.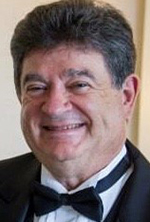 Kuperstein was born in Haifa, Israel. His parents were Holocaust survivors. His family later emigrated to the United States, where he graduated from Johns Hopkins University with a bachelor's degree in history, and Columbia University with a master's degree in philosophy.
He was the founding director of the Holocaust Center of Greater Pittsburgh, where he worked from 1980 to 1985. He then was the first director of education for the U.S. Holocaust Memorial Museum in Washington, D.C., where he worked from 1985 to 1990.
He was the curator of "Remember the Children: Daniel's Story," an exhibition that explains the Holocaust in terms for elementary and middle school children that is still featured at the museum today.
In 1993, Kuperstein became the owner and operator of what then was known as Seven-Eleven Supermarkets, which was founded in 1957 by Zoltan Weisz, the great-uncle of Kuperstein's wife, Elana,
There were seven Seven-Eleven locations in the Indianapolis area in 1988, according to Groceteria.com. It was not related to the national convenience chain of a similar name.
The name was changed to Double 8 Foods in 2000. In 2015, Double 8 closed its remaining four locations due to declining sales.
"It was a difficult and agonizing decision to make after operating for 58 years," the company said in a statement. "Unfortunately, our declining revenues [were] too much of a challenge to overcome."
Kuperstein also was active in philanthropic causes and board governance in Indianapolis, serving as a board member of Mapleton Fall Creek Development Corp. from 2011 to 2014, and of Congregation Beth-El Zedeck from 2012 to 2015. He also was president of the Temple Heritage Center from 2014 to 2015.
He donated a collection of oral interviews with Holocaust survivors to the U.S. Holocaust Memorial Museum in 2017.
He is survived by Elena, his wife of 43 years; sons Adam and Daniel; sister, Leah; mother, Rachel Markowitz; and five grandchildren.
"While his contributions leave a lasting legacy, his most important role was as a loving husband, father, and son," according to a statement released by the Zionsville-based A.R.N. Funeral & Cremation Services.
Please enable JavaScript to view this content.