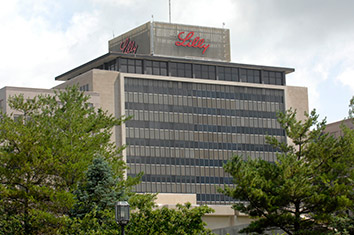 In a widely expected move, federal regulators have approved Eli Lilly and Co.'s hot-selling diabetes drug, Mounjaro, for a second use: chronic weight management. Lilly said it will be sold for that use under a separate brand name, Zepbound.
The Indianapolis-based drugmaker announced the decision of the Food and Drug Administration on Wednesday.
Analysts have predicted for months that the FDA would give its blessing to the drug for use in weight management. U.S. physicians have been prescribing the drug for weight loss for months, a legal practice known as "off-label prescribing," due to its ability to help patients lose weight.
Mounjaro rang up sales of $2.96 billion for the first nine months of this year, placing it firmly in blockbuster territory, meaning a drug that has accounted for more than $1 billion in sales in a year.
The medicine has helped people with obesity or who are overweight lose at least a quarter of their body weight, or about 60 pounds on average, when combined with intensive diet and exercise, a  study released last month showed.
By comparison, a group of people who also dieted and exercised, but then received dummy shots, lost weight initially but then regained some, researchers reported in the journal Nature Medicine.
The results mean the drug has the potential to be one of the most powerful medical treatments for obesity to date, outside medical experts and analysts have said.
"Unfortunately, despite scientific evidence to the contrary, obesity is often seen as a lifestyle choice—something that people should manage themselves," Dr. Leonard Glass, Lilly's senior vice president of global medical affairs for diabetes and obesity, said in written remarks Wednesday. "… Research now shows that the body may respond to a calorie-deficit diet by increasing hunger and feelings of fullness, making weight loss more difficult. Lilly is aiming to eliminate misperceptions about this disease and transform how it can be managed."
The FDA previously approved the drug, also known by its generic name, tirzepatide, for type 2 diabetes in May 2022.
Now the drug could see a wider audience under a new brand name and new marketing push by Lilly.
"Obesity is a chronic disease that can result in serious health complications, including heart disease, stroke and diabetes," Joe Nadglowski, president and CEO of the Obesity Action Council, said in written remarks released by Lilly. "New treatment options bring hope to the many people with obesity who struggle with this disease and are seeking better options for weight management."
Shares of Lilly were up $11.15, or 1.9%, to $611.08 in early-afternoon trading.
Please enable JavaScript to view this content.