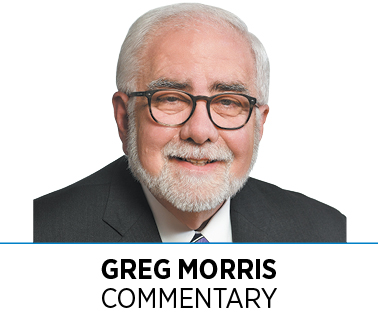 The right to die with dignity or, as some call it, physician-assisted suicide, has been hotly debated for decades. But a growing number of states are seeing the light and enacting legislation that allows terminally ill patients to have greater control of their own destiny.
In fact, November 2019 marked the 25th anniversary of when Oregon residents voted to pass the Death with Dignity Act, which gives terminally ill patients the right to choose how they die.
IBJ co-owner Mickey Maurer wrote about this subject in August of 2009 in his column, "Live like humans and die like dogs," and again in November of 2015, "State must confront death with dignity." I wrote about this in January of 2018 in my column "Allow death with dignity in Indiana." All three columns are timeless and still available online at ibj.com.
Here we are in 2020, facing the same arguments about why physician-assisted suicide is not acceptable. There are the age-old religious objections, and there are non-religious arguments. Some of the arguments include the availability of improved access to hospice and palliative care and better pain management. End-of-life options violate the preservation and sanctity of life. It's a slippery slope to euthanasia and mercy killings. The list goes on.
I respect these arguments and support the ability of those who make them to lead—and end—their lives as they see fit. But I don't want anyone to determine how I should lead my life or end it in the waning days of a terminal illness.
For those persistent do-gooders who refuse to respect my wishes, I more forcefully say "stay the hell out of my life. It's not your business. It's my business, my wife's business and my family's business. Period."
Have you ever been there while a loved one is bedridden, tethered to a respirator, fed through a stomach tube and basically suffocates to death without one minute of quality of life over a year's time? I have—my dad who died at the early age of 58. There aren't a lot of certainties in life, but you can be certain I'm not going out that way.
So, a big shout out goes to state Rep. Matt Pierce, D-Bloomington, who once again has stepped up and filed HB 1020 that deals with end-of-life options. Here's a digest of Rep. Pierce's legislation:
Allows individuals with a terminal illness who meet certain requirements to make a request to an attending physician for medication that the individual may self-administer to end the individual's life. Specifies requirements a physician must meet in order to prescribe the medication to a patient. Prohibits an insurer from denying payment of benefits under a life insurance policy based upon a suicide clause in the life insurance policy if the death of the insured individual is the result of medical aid in dying. Establishes a Level 1 felony if a person: (1) without authorization of the patient, willfully alters, forges, conceals, or destroys a request for medication or a rescission of a request for medication with the intent or effect of causing the individual's death; or (2) knowingly or intentionally coerces or exerts undue influence on an individual to request medication to end the individual's life or to destroy a rescission of a request for medication to end the individual's life.
You can read HB 1020 in its entirety at iga.in.gov.
As I've written before, we treat animals better than humans at the end of life in the state of Indiana. This has to change. Let's make 2020 the year Rep. Pierce's thoughtful legislation sees the light of day, makes it out of committee and receives full and serious consideration.•
__________
Morris is publisher of IBJ. His column appears every other week. To comment on this column, send email to gmorris@ibj.com.
Please enable JavaScript to view this content.