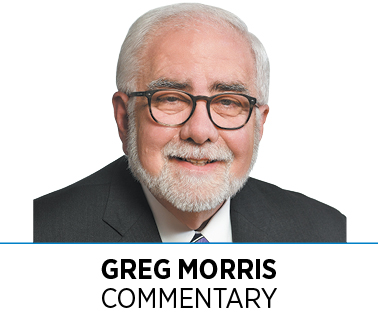 As we head into Labor Day weekend, I am pleased to concur with Mayor Hogsett and say the state of downtown is improving. Positive change has been noticeable in the past several weeks in particular, and especially so in the last several days.
I've been here on Monument Circle most every weekday during the pandemic and I am witness. It's time to come back downtown. Without you here, the recovery can't continue at the pace required to truly sustain positive momentum for our city.
If you read this column, you know I've been critical of local government efforts to get downtown back on track. But I see positive change and progress on a daily basis right now. Downtown has improved from as recently as the Indy 500 weekend.
For starters, I see a much cleaner Monument Circle; fewer homeless and aggressive panhandlers on the street; a very noticeable increase of police presence, including increased foot/bike patrols of off-duty IMPD officers; and the addition of Downtown Indy's safety ambassadors' program. I see real progress on building repairs and a significant reduction in the number of boarded windows.
You've heard the phrase—pride of ownership. That's what I'm talking about. Add the extremely important component of feeling safe, and you start to believe. Things feel better and look better, and that gives one hope for a brighter future.
Everyone agrees, of course, that there is a tremendous amount of work to be done—both in the short term and for the long haul—but I can finally say recovery is firmly underway. I genuinely believe it's time to come back downtown or I wouldn't say it.
This positive change has been created by a collaboration of many passionate and hard-working people and organizations—public and private— who have been in the trenches every day. This collaboration was clearly on display about a week ago when Downtown Indy Inc. hosted its 2020 State of Downtown, Part II, virtual event.
I can't say enough about all the great work done by the Downtown Indy folks—President Sherry Seiwert, Senior Vice President Bob Schultz, Vice President Tim Boruff, the entire staff, the board led by outgoing chair Joe Whitsett and incoming chair Denny Sponsel, committee members, and legions of volunteers. They are a very effective team dealing with very complex challenges in a very complex world today.
I highly recommend watching the video replay of the 2020 State of Downtown presentation. It offers a lot of detailed information about what's going on to improve downtown. You'll find the video at downtownindy.org.
There's a brief, but detailed recap of ongoing city efforts and funding, including the recently announced $750,000 that was added to millions of dollars already pledged by Hogsett to address various downtown problems.
Downtown Recovery Committee Co-Chair Tom McGowan, president and chief operating officer of Kite Realty Group, shares on the video the various efforts underway. They revolve around the following themes: "open for business," "supportive and safe" and "clean and welcoming." Additional work is being done in funding and promotional support.
Also in the video is the ongoing work of Downtown Indy's pre-COVID Downtown Agenda, which dovetails perfectly with what we're dealing with today. And you'll find a lot more useful information in the video from various speakers involved with downtown initiatives.
Extensive COVID safety precautions are in place. Positive things are happening. I hope to see you downtown soon.
Thanks for reading and supporting IBJ. Please have a great extended holiday weekend.•
__________
Morris is publisher of IBJ. To comment, email gmorris@ibj.com.
Please enable JavaScript to view this content.