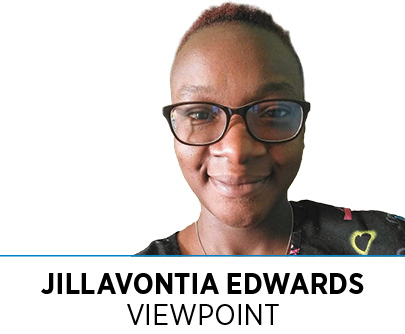 As a little girl growing up in Indianapolis, I spent my mornings before school and most of my summers helping my grandmother. I have always been drawn to older folks and learned respect for their wisdom at a young age. That's when I learned that caring for others was my natural calling.
Now, I am a home care worker in Indianapolis. I have two elderly clients. One has mobility challenges and no family nearby to help take care of him. The other needs help getting in and out of the shower, so she doesn't fall and hurt herself.
I help them with essential daily tasks like shopping, cooking, cleaning and medication reminders. I'm also their companion, comforting them when they are lonely, bringing laughter when I can. I help my clients get around and lead healthy, fulfilling lives in their old age with independence and dignity.
But my clients aren't the only people who look to me as a primary caregiver. I am also a mother of three.
I love this work, but it's hard for me to make ends meet and support my family. I am paid only $12 an hour. I often have to borrow from Peter to pay Paul. Every month, I worry I won't have enough money to put food on the table.
When the pandemic started, I had no choice but to work through it. My children and clients depended on me to provide for them. I prayed every day that I wouldn't accidentally bring the virus into my home.
When elected leaders started calling home care workers "essential," it felt like a slap in the face because I knew firsthand how little we are paid. I would like to challenge these same lawmakers to live on my wages and see how hard it is just to survive. This is about buying food, clothes and basic needs. If we're essential, we should be paid like we're essential.
A recent news investigation found a severe shortage of home care nurses in Indiana, mostly because of the pay and demanding work. During a public health crisis, this had deadly consequences for thousands of families who couldn't get the care they needed. After huge losses suffered by our communities, local lawmakers finally allocated some additional funds toward long-term care. But we can't stop there.
Building a better economy as we recover from COVID-19 starts with the millions of home care workers who are struggling to get by on low pay. This is why we need President Joe Biden's care plan, which would invest $400 billion in home care jobs with good wages, training, career advancement opportunities and the choice to join a union. It would give our families breathing room.
Women, including women of color like me, do the bulk of the country's essential-care work. We often do the bulk of caregiving work at home, too. Without fair pay and benefits, this is not sustainable.
We now have an opportunity to truly build back better, as Biden promised. Our work makes all other work possible, and we must be centered in any economic recovery plan. This will empower families in Indiana to be financially secure and access the care they need.
We need our Indiana senators and representatives to back Biden's care plan and take a stand for Indiana's home care workers and families. Every person needs care at some point in their lives. Let us learn from the pandemic and act before it's too late.•
__________
Edwards is a home care worker in Indianapolis.
Please enable JavaScript to view this content.