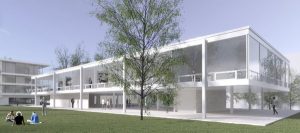 The new home of Indiana University's art school in Bloomington will be modeled after an unbuilt fraternity house a famed modernist architect designed in the 1950s.
IU's trustees approved construction of the $10 million Mies van der Rohe Building on Aug. 9.
When completed in 2021, the building will be used by the Eskenazi School of Art, Architecture and Design for lectures, workshops, student collaborations and offices.
The 10,000-square-foot structure will be made of limestone, steel and glass, with second-floor windows spanning floor to ceiling, the Herald-Times reported.
It will be located at the northwest corner of Seventh Street and Jordan Avenue.
Ludwig Mies van der Rohe was a German-born architect known for his "less is more" approach emphasizing open space and industrial materials. He designed a fraternity house for Phi Lambda Phi in the early 1950s, but it went unbuilt.
The new building will be similar to his design, with modern upgrades.
IU's design school was renamed the Sidney and Lois Eskenazi School of Art, Architecture + Design earlier this year after the university received a record $20 million donation from prolific Indianapolis philanthropists Sidney and Lois Eskenazi.
Please enable JavaScript to view this content.