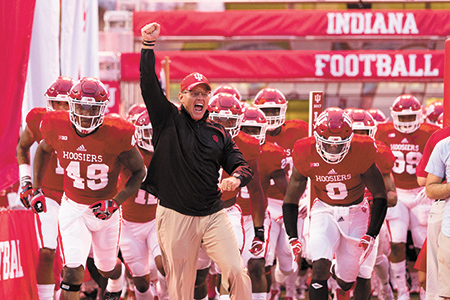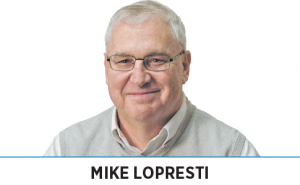 Yeah, there are tough jobs. Bomb disposal. Coal mining. The guy Chicago brought up from Florida the other day to catch an alligator.
And then there's coaching football at Indiana University. Tough? Look at the past and see how many men left the post feeling as if they had stuck their faces in a fan. The last coach with a winning career record at IU was Bo McMillin. That was 1947. John Pont is the only Hoosier coach to see a Rose Bowl. That was 52 years ago. Ten more men have walked on the moon than have won a bowl game at Indiana.
It's been a daunting challenge from the start. The first coach was an economist named Arthur B. Woodford. He scheduled two games in two years, won neither, left for Princeton to chair a department, and lost that post to a future White House resident named Woodrow Wilson. The second coach, Evans Wollen, worked one game. Lost to Wabash 40-2. The first coach with a winning season, Winchester Dana Osgood, died fighting against Spain for the Cuban army. Clarence Childs won the bronze medal in the 1912 Olympics in the hammer throw but had a tougher time coaching against the Big Ten at Indiana. He was 2-7 in league games.
And so it has gone. The past 24 years have included seven football coaches at Indiana—and one winning record. See the arduous task faced by the occupant? Which brings us to the determined man who spent his 27th wedding anniversary talking Hoosier football to the masses at the Big Ten preseason media days in Chicago.
"I believe in what we are building at Indiana and how we are building it," Tom Allen began, before announcing his battle cry for this season. Bugles, please … Grit!
"I define that as perseverance and passion towards a long-term goal. We're building this program on accountability, toughness and love. I believe in those things. We're attracting young men that want to come to Indiana and be a part of our program and help us break through and make history."
How can you not pull for him, this likable and earnest fellow from New Castle who ended his press session with his inevitable mantra LEO? Love Each Other. He has the toughest coaching job in the state. When you consider the historical forces he's trying to reverse, and all the bodies he needs to do it, name another.
For that matter, he has one of the toughest jobs of anyone in the nation working in the power conferences. Look at whom he's up against. Consider the Big Ten division the Hoosiers call home. Ohio State is in there. And Michigan. And Michigan State. And Penn State. When it comes to divisional balance of power, the Big Ten leans more than the Tower of Pisa.
Truth is, the Hoosiers have pushed all those big names lately but ended up a brick or two shy of a load in the fourth quarter. Matter of numbers—and maybe pedigree. The question of Big Ten realignment was presented to Allen, whose program could certainly use a geographical break.
"That's a decision that others might make," he said. "If it changes, it changes. If it doesn't, it doesn't. But we just play the teams that show up on game day."
It is with such clear-eyed purpose that he intends to make something of Indiana football. He understands the demands of the sport. His alma mater, Maranatha Baptist, doesn't even have a football program anymore. He said he's learned a lot in his two full seasons as head man in Bloomington.
"In some ways, it hasn't been as hard as I thought. I had been a head coach before [at Ben Davis and a Florida high school]. And I get it—I know I wasn't at the same level. But the principles of leadership are really the same. The biggest difference is recruiting and dealing with the media. But in terms of how you organize yourself—and that's one of my strengths—and how you manage people, that part has been a little more natural than I thought it might be.
"The biggest thing I think is managing the staff. It's such a people business that we're in, and everything's about the players and how you lead them, but it's also being able to assemble and help those coaches grow. We talk about players having confidence to confront their teammates and their peers. Well, it's no different as a head coach; you have to have the confidence to confront and challenge those guys and help them get better. I'm only as good as the guys around us."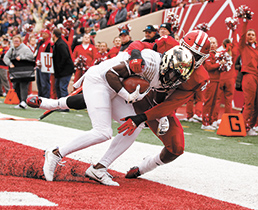 But trying to grow roses in the rocky soil of IU football—that can't be easy, can it?
"You just have to stay the course. That's grit. It's perseverance and passion towards what we want. It takes a whole lot of it. It takes a ton of energy; it takes a lot of time. But I believe in what we're doing. I believe it with everything I am. To me, as long as the leader stays true to the course and doesn't waver, keeps his energy level high, keeps his focus where it needs to be, then the guys around you will follow suit. And that's what we're doing."
He mentioned the recruiting efforts—"highest-ranked class in the history of our program"—and what's gone into that. "I'm a big relationship person. My faith and family are the two most important things to me, and I think that resonates with recruits." He mentioned his ardent belief the 2019 Hoosiers are stronger, deeper, ready to make a move up. Still has to decide on a quarterback, though.
Allen was brought to Bloomington by Kevin Wilson in 2016 as a coordinator to fix the sieve that was the Indiana defense, and he accomplished that. The past two seasons he's burned the football candle at both ends as head coach while still running the defense. That meant Thursday nights in the office until 2 a.m., finalizing the week's defensive plans after doing all the other things head coaches must do. "It was just getting later and later and later."
So he decided a change needed to be made, to focus better on his main duties. Kane Wommack is the defensive coordinator this season.
"I'm a hands-on guy," Allen said. "But at the same time, it was time. I feel really good about it. I haven't second-guessed it. It's helping me be a better coach already; it's helping me be a better recruiter already. It's helped me be a better leader of our coaching staff already."
He wants so badly for IU to be good. Same for the 28 head coaches before him, but few found a way. Bill Mallory did, accounting for six of the Hoosiers' 11 bowl games, and in a move that still defies logic, they fired him. If Allen pulls it off, he'll have done it the hard way. That's what coaching football is at Indiana.•
__________
Lopresti is a lifelong resident of Richmond and a graduate of Ball State University. He was a columnist for USA Today and Gannett newspapers for 31 years; he covered 34 Final Fours, 30 Super Bowls, 32 World Series and 16 Olympics. His column appears weekly. He can be reached at mjl5853@aol.com.
Please enable JavaScript to view this content.