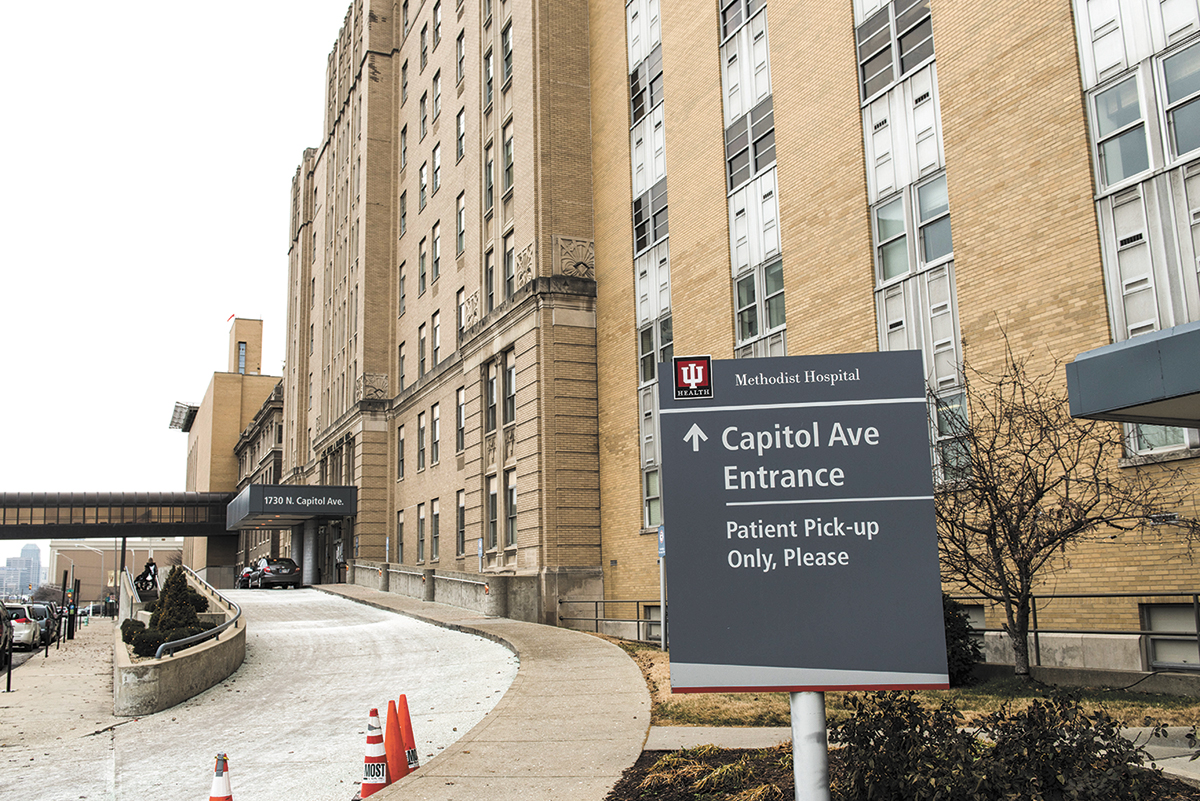 Indiana University Health, the state's largest hospital system, said Thursday it is caring for a record number of COVID-19 patients as it converts conference rooms into patient wards and adds hundreds of beds across its 16 hospitals.
"We have been in a constant stage of surge essentially since the beginning of October," Dr. Mark Luetkemeyer, chief medical officer of IU Health's Methodist and University hospitals, said during a press briefing.
The hospital system is now getting a bit of help from a 23-member U.S. Navy team, which arrived in Indianapolis on Wednesday.
The Navy team is now training at Methodist Hospital, and is expected to begin caring for patients in coming days. The team consists of four doctors, 14 nurses and two registered technicians, along with three administrative staffers.
"We are working hand in hand with the staff here to learn their system, their procedures, their protocols," said Lieutenant Commander Michael Gibboney.
Dr. Chris Weaver, IU Health's chief clinical officer, said the 23-person Navy team is relatively small but will help ease strain and fatigue for many overworked doctors and nurses on staff.
"In reality, we could use that times 20, obviously, across our system and across the state," Weaver said. "It's not going to meet near what we would love to see. At the same time, 20 clinical experts will plug in and work as a part of our team."
He said the federal assistance will allow Methodist Hospital, the state's largest hospital, to open up "many, many more beds." In recent weeks, the hospital has converted conference rooms and other areas into patient wards and added about 100 beds. As of Thursday, the downtown hospital was caring for about 127 COVID-19 patients.
The expansion of even more beds will allow Methodist Hospital officials to move patients more quickly from the emergency room to beds upstairs. With the current shortage of beds, many patients have to wait hours longer than needed in the emergency room.
IU Health was caring for 551 COVID-19 patients, a record high at any point in the pandemic, officials said. More than six patients a day are dying in the system's hospitals.
The hospital system asked for federal help through Gov. Eric Holcomb's office, which forwarded the request to the Federal Emergency Management Agency. The Department of Defense approved the request and sent the Navy team to Indianapolis. The team is scheduled to remain at Methodist Hospital for about a month.
It's just the latest help from uniformed personnel to hospitals in Indiana. IU Health said the Indiana National Guard had been enlisted at 14 of its 16 hospitals during the pandemic.
Hospitals across the nation are dealing with a severe shortage of nurses and other patient-care professionals, many of whom have retired, quit or taken administrative jobs.
On Sunday, three large hospital systems, including Indiana University Health, placed a full-page ad in the Indianapolis Star pleading with Hoosiers to get vaccinated, boosted, tested and wear masks.
"The situation is dire," the ad said.  "We have more patients in our hospitals than we have beds. We're converting available units into critical care wards, just to make room. And as you know, healthcare workers across the country are exhausted and running out of steam."
The ad coincided with news that Indiana health officials identified the first case of the omicron variant of COVID-19 in an unvaccinated Hoosier. The specimen was collected on Dec. 9 and confirmed as an omicron variant by lab tests this past weekend.
Hospitalizations from COVID-19 tripled in recent weeks to 3,002 as of Tuesday. The pandemic high was 3,460 on Nov. 20, 2020.
On Tuesday, state health officials reported that only 12% of intensive care unit beds were available statewide.
Please enable JavaScript to view this content.