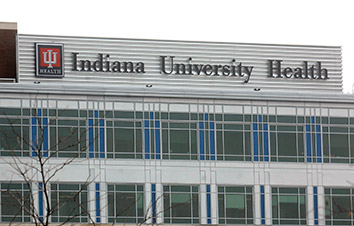 Indiana University Health said Thursday that financial pressures from the pandemic are easing, helping it ring up an operating profit of $21 million in the second quarter, swinging from a loss of nearly $30 million in the previous quarter.
"After a challenging first quarter, IU Health has seen improvement in financial outcomes even as we continue to navigate our commitment to care affordability and invest in our team members during a time of economic and social stresses," said Jenni Alvey, senior vice president and chief financial officer of the state's largest hospital system, in written remarks.
Even so, IU Health reported a total loss for the first six months of 2022 of $929.6 million, and attributed the loss largely to declines in financial markets. The loss compared to a gain of $884 million in the first half of 2021.
Operating revenue for the second quarter rose slightly, to $1.98 billion, from $1.96 billion a year ago.
Costs for salaries, wages, and benefits climbed 24% as a result of nursing premium pay and wage increases.
"These investments are being made as we work through the labor shortages to ensure we can meet patient demand," IU Health said in a filing to bondholders. "The Indiana University Health System continues to balance the need to support its staff during this challenging time with its efforts to reduce the cost of care for Hoosiers."
Admissions were essentially flat during the first six months compared with a year ago. Visits to emergency rooms rose 8.2% and surgery cases declined by 1.8%. The hospital system said it saw patients with more acute issues in the first half of the year compared with a year ago,
For the first six months of the year, IU Health had an operating loss of $8.54 million on revenue of $3.91 billion, compared with a gain of $414 million on revenue of $3.81 billion in the first half of last year. Expenses rose to $3.92 billion in the first half from $3.4 billion a year ago.
Please enable JavaScript to view this content.