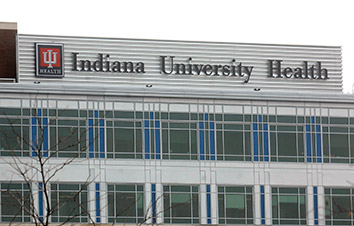 Indiana University Health said Thursday that it plans to achieve national average commercial pricing by Jan. 1, 2025—almost a year earlier than the date it announced as a goal a few months ago.
The largest hospital system in Indiana, IU Health has come under heavy criticism from the public and lawmakers for high prices and robust profit margins, even as it's sitting on nearly $9 billion in cash and investments. In December, it announced a price freeze through Dec. 31, 2025, for all commercial payers—the insurance companies that offer health plans, chiefly through employers.
That "pricing and affordability plan" was designed to get the system's prices more in line with the national average and save patients and employers more than $1 billion over five years, IU Health said. At the time of the announcement in December, the health system said it had started freezing prices earlier in 2021.
On Thursday, in a public letter addressed to Indiana Senate Pro Temp Rod Bray, R-Martinsville, and House Speaker Todd Huston, R-Fishers, IU Health said savings from the plan had already "exceeded expectations."
Bray and Huston, Indiana's top legislative leaders, in January publicly called on IU Health and several other Indiana hospital systems to lower the "out-of-control costs" of health care. The lawmakers told the systems to submit a plan by April 1 that would explain how they would lower Indiana's hospital prices to the national average or lower by 2025.
"Absent a viable plan, we will be left with no choice but to pursue legislation to statutorily reduce prices," the letter said.
In its six-page response, turned in one day before the April 1 deadline, IU Health said it was taking "a proactive and fiscally responsible approach to addressing patient care costs that consists of three primary elements: (1) Affordability; (2) Value-based health care; and (3) Public health investment."
"This plan takes into account the immediate need to address the cost of health care but also focuses on sustainable long-term strategies," IU Health said.
The hospital system said it was confident that it would meet demands of lawmakers despite economic uncertainty.
"We do not enter into this commitment lightly," it said. "IU Health has sustained operating losses in the first two months of 2022.  We will soon report that our first quarter results were dramatically impacted by higher than projected labor costs due to the premium pay required to retain critical clinical professionals to care for extraordinary patient volumes and unfavorable revenue due to the cancellation of non-urgent surgeries and procedures during the COVID-19 surges."
IU also emphasized the role of public health in health care costs and called on lawmakers to spend more on public health. It pointed to a recent study that ranked Indiana 47th among states in per-person public health funding.
"We would be remiss not to draw attention to the fact that Indiana's woeful investment in public health relative to national benchmarks only exacerbates the cost of care when the population seeking care is in poorer health than the rest of the nation," IU Health said.
The hospital system said Indiana needs to spend more to improve its "abysmal public health metrics."
"You have asked us directly 'What can the state do to help reduce the cost of care in Indiana?' We would request that you bring Indiana's public health care spending to the national averages as we are doing with our prices," the letter said.
One major area where Indiana could improve public health rates is to reduce smoking rates, IU Health said, but state lawmakers have failed to increase cigarette taxes in a meaningful way over several budget cycles, despite the urging of hospitals and health care advocates.
IU Health said it believed its recent investments into community health would play a role in lowering the overall cost of care.
As previously reported, those investments announced over the past two months include:
a $416 million donation to the Indiana University School of Medicine;
$500 million for health-related community development in the neighborhoods surrounding the downtown Indianapolis campus;
$400 million to support unspecified innovation "advancing the strategic health care priorities of IU Health and its key partners;"
$100 million for the system's Community Impact Investment Fund.
"We believe it's important to note that there is no simple explanation or solution for America's and Indiana's high health care costs," IU Health said. "Proposals aimed solely or primarily at one segment of the health care system are unproductive and will not yield the desired results."
IU Health CEO Dennis Murphy and IU Health Plans President Stephanie Motter, who both signed the letter to lawmakers, said they would meet "one-on-one with business leaders in our IU Health regions (Bloomington, Central Indiana, Muncie and Lafayette regions) to discuss our per unit pricing adjustments so that they can begin to track whether these saving are being seen in their own health benefit plan designs."
The IU Health system has 16 hospitals and more than 300 outpatient clinics throughout the state.
Please enable JavaScript to view this content.