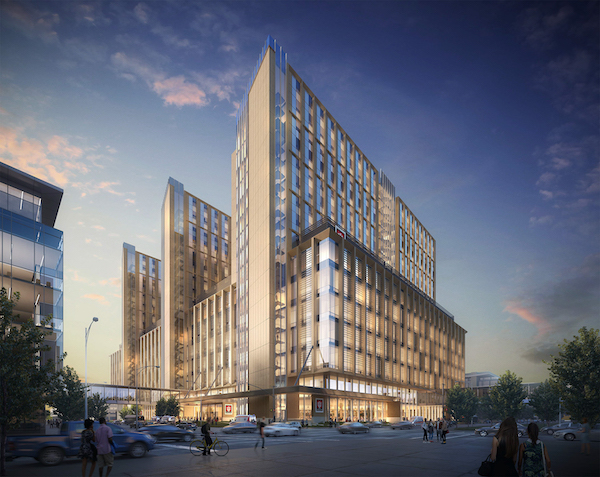 After more than six years of planning, Indiana University Health is moving forward with the next step of its new, $1.6 billion flagship hospital downtown, which will soar up to 16 floors above the street.
The health system submitted design plans Thursday with the Indianapolis Metropolitan Development Commission, and said it will begin excavating the foundation next week.
Plans call for the hospital to have three towers holding up to 672 patient rooms, making it one of the most prominent buildings in the Indianapolis skyline.
IU Health submitted two different options, of 14 and 16 floors, to the city for review. The design includes a multi-story base containing an outpatient center. Above it will be the inpatient towers, with hundreds of windows to give patient rooms natural light.
The design could accommodate a fourth tower, with a basement-level extension to the south, to accommodate future growth, the system said.
The new hospital will sit on a 44-acre expansion to the IU Health campus on Capitol Avenue, south of 16th Street. To the west of the building will be a large lawn and the new IU School of Medicine classroom building.
IU Health said the hospital is styled to be welcoming and accessible, with transparent street-level entryways featuring wood-clad entry canopy soffits. The hospital will be linked to neighboring buildings with walkways and tunnels.
Landscaped areas around the hospital would be outfitted with outdoor seating connected by walks and serpentine paths and featuring native plantings and rain gardens.
The new hospital and campus will take four to five years to complete, IU Health said. It will consolidate operations of IU Health's two downtown adult acute care hospitals: Methodist Hospital, located just north of 16th Street; and University Hospital, located 1.5 miles away.
IU Health first announced plans to consolidate the two hospitals in 2015, and has been working on the design plans since. In 2020, it announced that it would expand its footprint by eight blocks just south of the century-old Methodist Hospital.
"The new downtown hospital will become an iconic addition to the Indianapolis skyline, representing hope and healing for future generations," James Mladucky, IU Health's vice president of design and construction for IU Health, said in written remarks.
The architect for the hospital is Indianapolis-based CURIS Design, a collaboration of BSA LifeStructures, RATIO Design and CSO Architects. HOK serves as executive architect.
The construction manager is a joint venture of locally based Wilhelm Construction and Gilbane Building Co. of Providence, R.I.
IU Health said that combining operations of the two hospitals will eliminate "costly duplication" of medical services and help provide more accessible care.
The oldest portion of Methodist Hospital dates to 1908, while University Hospital opened in 1970.
IU Health did not say what parts of Methodist Hospital will stay in their current location and which parts will move to the new hospital, which has yet to be named.
The Methodist campus is a hodgepodge of buildings that have been stitched together over the decades, with mismatched floor plates, uneven ceilings, and a conglomeration of electrical, mechanical and plumbing systems.
The health system said it aims to award 30% of the design and construction to certified veteran, women and minority-owned businesses, and achieve at least 50% local business participation.
Please enable JavaScript to view this content.