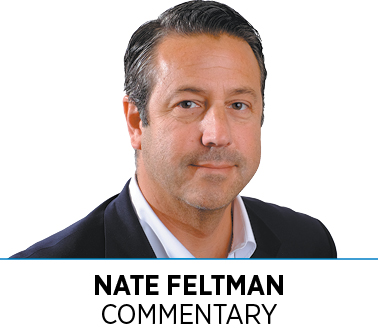 While the rest of the country was focused on March Madness, Indiana University Athletic Director Scott Dolson had a different kind of March madness—one that will define IU athletics, and perhaps the university as a whole, for years to come. In the span of three weeks last month, Dolson retained one of the hottest college football coaches in America, fired head basketball coach Archie Miller and hired IU legend Mike Woodson as IU's next head basketball coach.
After IU finished 12th in the final AP College Football poll and Tom Allen won Big Ten Coach of the Year and AFCA National Coach of the Year, Allen had options. Credit him for staying loyal to a school that took a chance on him and not jumping to a bigger-name program that could pay him more.
But significant credit also goes to Dolson for quickly renegotiating Allen's contract, boosting his annual pay and extending his contract through 2027. Dolson understood that losing Allen was not an option after IU invested heavily in the football program that finally is beginning to taste success.
One week after announcing Allen's extension, Dolson fired Miller. After four consecutive losing seasons in the Big Ten, zero wins against in-state rival Purdue and zero NCAA tournament appearances, terminating Miller might have seemed like a no-brainer. But in a year in which athletic department revenue tanked due to the pandemic, the coach's $10.3 million buyout presented a challenge. Undeterred, Dolson quickly identified two donors who covered the cost of the buyout (as well as transition and search expenses associated with his replacement).
Less than two weeks later, Dolson announced the hire of Woodson, who played and coached in the NBA. In addition, Dolson brought in Thad Matta, the winningest coach in Ohio State basketball history, as associate athletic director for basketball administration.
Woodson's NBA experience should help attract top prospects. Matta's collegiate success and knowledge of NCAA rules will undoubtedly help Woodson as he transitions to the college game.
Dolson's hire of Woodson also helps fully heal the two-decade-old wound that has festered since Coach Bob Knight's firing. While far from perfect, Knight ran a clean program and won. Ignoring his three national championships, five Final Fours, 11 Big Ten championships and 902 NCAA Division I victories—as some tried to do—hurt IU.
When Woodson at his introductory press conference credited Knight for his accomplishments and Knight endorsed Dolson's choice of Woodson, the effort that began under former AD Fred Glass to reconcile with Knight (and therefore all of Knight's former players who credit Knight for their success) came to a successful close.
Winning sports programs help drive alumni engagement, leading to more donations that help support a university's educational mission. A winning tradition also helps drive reputation and enrollment. Just ask Butler officials and alums how two consecutive NCAA Final Four appearances can enhance a university's standing.
Dolson, only one year into the job as a first-time AD, made moves that had all the hallmarks of a seasoned veteran. He came to IU in 1984 as a freshman and basketball team manager—thus part of Knight's 1987 national championship team—and never left. Dolson has been a big part of IU and IU athletics for nearly four decades, climbing to athletic director. Dolson's patience, loyalty, passion, hard work and perseverance put him in the right place at the right time for IU.
I'll bet Dolson's performance in March will go down in history much like a Keith Smart corner jumper.•
__________
Feltman is CEO of IBJ Media. To comment, email nfeltman@ibj.com.
Please enable JavaScript to view this content.