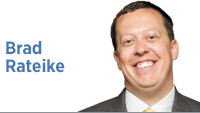 For the two years I worked for first candidate and then President Donald J. Trump, having cable news on television whenever I was in the office was standard practice (and an occupational hazard). Like it or not, I had to at least be aware of what was going on, given the national media's obsession with covering my boss.
After making the transition from D.C. back to Indiana, I have found my cable news viewing habits have dramatically changed. I couldn't quit cold turkey, but I've weaned myself off to a level that I think most would say is reasonable. I call it the "if a tree falls in the forest" approach. If I don't have cable news on all day, can I ensure it doesn't control my life? I'm proud to say that the answer to that question is, "Yes, I think." Hardly words of encouragement, but there is another factor that has managed to keep me out of the grasp of cable news. That force is called boredom.
I am so bored with cable news. I realize it may be ill advised for me to say anything disparaging about media outlets because I run a strategic communications/public relations consulting practice that often engages with media outlets. But I'm not sure this qualifies as disparaging. I'm not calling out any individuals or outlets. I'm making a blanket statement (that none of these outlets will read or care about). I'm comfortable saying this because, after the past three years of cable news coverage, I believe I'm in good company with many people who are bored with it.
That doesn't mean that any of the people I'm referencing have stopped watching cable news or are even reducing their consumption of it. That also doesn't mean cable news is a bad business to be in (financially speaking) or that the individuals who report, produce and comment for these networks are any less talented.
But how can people not be bored by the fact that, over a three-year period, we have essentially been subjected to coverage via cable news on basically only one person (President Trump) and only two main storylines (Russia and impeachment)? Those two "threads" have been accompanied by at least 1,000 additional mini dramas/subplots of all shapes and sizes. Some of those are legit, but many are not worthy at all of coverage but are still "reported" because the mere potential that one might be salacious is good for ratings and good for business—even if it's "fake" or potentially bad for the country.
No one made me the cable news quality ombudsman, but I'm confident the statistics support my hypothesis about a disproportionate amount of coverage being spent on one person divided up over two topics. Daily, plenty of legitimate international and national stories are ignored or given fractional attention in favor of a good/bad story about the president and Russia or the president and impeachment. Snooze. Unless you've been paying really close attention and using multiple sources for news, the average consumer knows very little about the latest tropical storm (unless it's related to the Trump administration not giving enough advance warning/relief aid, etc.) or international unrest (unless the president or someone in his administration or family members "caused" that unrest).
Like the president or don't like the president, my point remains the same. While cable news executives appear to believe the demand has shifted and this is how they're going to respond, I'm going to vote accordingly with my remote—because I'm bored.•
__________
Rateike is founder and owner of BAR Communications and served as director of cabinet communications for President Donald Trump. Send comments to ibjedit@ibj.com.
Please enable JavaScript to view this content.