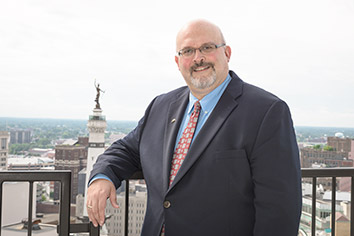 James Dimos, former president of the Indiana State Bar Association and Indianapolis Bar Association, and general counsel for the American Bar Association, died from a heart attack Wednesday. He was 59.
"We are devastated by the loss of Jim Dimos. He was a big man with a great vision and huge accomplishments," ABA Executive Director Jack Rives said. "His contributions to the legal profession over more than three decades will endure. We will do our best to carry on his unfinished business. We miss him terribly."
Dimos had been an attorney at the Indianapolis office of Frost Brown Todd. He joined the Chicago-based ABA as deputy executive director in 2015, saying serving in bar associations was sort of his professional hobby, so the opportunity to serve in the national organization was a perfect fit.
"I couldn't think of a job that was better suited for my interest at this point of my career," he told The Indiana Lawyer. "I've enjoyed the practice of law and I've done it for 30 years now in the same place. It was going to take something very special to get me to change that."
As the ABA's deputy executive director, he served as "second in charge" of the association's staff. Through the years, he was directly responsible for several functional areas, including membership, legal education and admission to the bar, and the Center on Public Interest Law.
Dimos became the ABA's general counsel in September.
A graduate of Wabash College, Dimos earned his law degree from Washington University School of Law in 1986. But it was in Indianapolis that his star rose.
In private practice, he focused on litigation in the business community relating to intellectual property, competition and media law. He represented a significant number of Fortune 100 companies, especially those in the technology and media industries.
Along with his work in the bar associations, Dimos also served as a member of the Indiana Supreme Court's Pro Bono Commission. In 2012, he was selected as a Distinguished Barrister by The Indiana Lawyer.
Dimos leaves behind his wife, Kathy, and three children—Stephanie, Jennifer and Jonathan.
"Jim was a dedicated member and leader of the American Bar Association who believed in fairness and justice for all," ABA President Patricia Lee Refo said. "He was an accomplished lawyer but, more importantly, he was a devoted father and husband and a dear friend. He will be deeply missed by us all."
Please enable JavaScript to view this content.