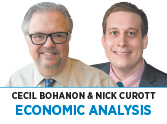 "There is a rethink about capitalism happening" reads a line from a recent article in the Economist magazine. And, no, the article was not a rehash of the 2019 U.S. Business Roundtable Statement on the Purpose of a Corporation. As many might recall, that was when the BRT announced with great pomp and circumstance that a business corporation should "embrace a commitment to all stakeholders." Rather, the "rethink" about capitalism the Economist was referring to is in Japan, which has always followed its own unique version of "stakeholder" capitalism.
Back in 2019, we argued that the "new" U.S. version of stakeholder capitalism was a distinction without much difference from the previously articulated maxim that corporations should pursue shareholder returns within the constraints of law and ethical custom. Firms that, for example, adhere to the 2019 BRT dictum of "investing in our employees" are likely to generate better shareholder returns than firms that do not.
Moreover, there was nothing novel about either the BRT statement or our observation. These issues have been hashed around for over a century. In 1926, a Columbia University professor noted, "The business man who tries to higgle his wage-earners down to the last farthing or who says mean things to his stenographer may be richer next year, but in ten years he will be a pauper."
Stakeholder capitalism is much different in Japan. Since World War II, the Japanese have made corporate employment a mutual life-long commitment—shareholder interests be damned. Workers do not strike and are rarely laid off. Corporate executives don't jump ship but are never fired. The system surely has advantages. Unemployment is low, employee benefits are extensive, and CEO salaries are restrained compared to the USA.
But there have also been costs. Return-on-equity in Japanese corporations has been consistently lower than returns outside Japan since the mid-1980s. The Japanese economy has stagnated since the real estate and stock market crashes of the late 1980s and 1990s. Neither expansive fiscal nor monetary policy has kick-started the economy.
Much of Japan's stagnation is explained by "executive suites [being] dominated by longtime company insiders, who act less as representatives of shareholders than as heads of a family." There is little dynamism or risk-taking in Japanese corporations. Until very recently, shareholder activism to prod firms to seek higher profits has been unknown.
American corporations should consider Japan's stakeholder capitalism as a caution against straying too far from shareholder primacy.•
__________
Bohanon and Curott are professors of economics at Ball State University. Send comments to ibjedit@ibj.com.
Please enable JavaScript to view this content.