The Republican primary race for Indiana House District 32 is settled more two months after Election Day.
Fred Glynn will face Democratic candidate Victoria Garcia Wilburn in November after Glynn's opponent, Suzie Jaworowski, conceded the election that went into a recount last week.
"I called him and I said that I concede and that I congratulate him," Jaworowski said Monday.
Results certified following the May 3 primary election for the newly redrawn House District 32 showed Glynn received 1,844 votes to Jaworowski's 1,838. A third challenger, Paul Nix, received 479 votes.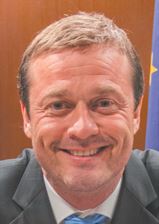 District 32 includes Hamilton County's Clay and Delaware townships and extends south into Marion County.
Glynn was certified as the winner on May 16, and Jaworowski requested a recount the next day. Hamilton and Marion counties recounted ballots last week.
Jaworowski said an additional six votes were found for Glynn that had been mistakenly identified as Democratic ballots, but were mailed in Republican envelopes and were Republican votes.
An official report will be released in early August, according to a spokesperson with the Indiana Secretary of State's Office.
"Even though the votes didn't go my way, it showed me that, yes, it's worthwhile when it comes down to the wire like that and there's just a few votes difference that it could be worthwhile to double-check," Jaworowski said.
The State Recount Commission handled the District 32 recount. The commission is in charge of federal, statewide and state legislative office recounts.
Glynn said the ultra-close election made him question if he could have done more prior to the primary to help himself win by a greater margin.
"If I would have knocked on another couple hundred doors and talked to another 20-30 people, this wouldn't have happened," he said. "It makes you think that you can't just leave anything on the table. You just got to keep going. So, that's kind of the lesson learned from that."
Please enable JavaScript to view this content.