A Republican candidate in the House District 32 primary election plans to file for a recount in a race that was separated by six votes.
Suzie Jaworowski of Fishers told IBJ on Monday that she will request a recount of the May 3 election.
Election results certified Monday showed Fred Glynn of Carmel received 1,844 votes to Jaworowski's 1,838. Paul Nix of Fishers received 479 votes.
District 32 covers Hamilton County's Clay and Delaware townships and extends south into Marion County.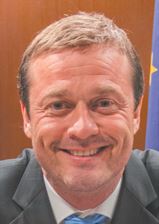 Jaworowski, a former U.S. Department of Energy official in the Trump administration, said she will file for a recount because "six votes is just too close when there are nearly 4,000 votes."
Glynn, who would face Democrat Victoria Garcia Wilburn in the general election if the results are confirmed, told IBJ he is "confident that this lead will hold and my campaign will maintain victory."
Candidates have until noon Tuesday to request a recount by filing a petition with a county's circuit or superior court, according to the state election administrator's manual.
For the District 32 race, the State Recount Commission would handle a recount as the commission is in charge of federal, statewide and state legislative office recounts.
The candidate requesting a recount has to cover the cost of it, according to the manual. The petitioner has to pay the civil case-filing fee and file a bond or cash deposit of at least $100 with the court to cover costs of the recount. The court sets the total cost, which can be determined based on the number of precincts that need to be counted and also whether the candidate lost by more or less than 1%, according to the manual.
If the recount alters the original results of the election, the candidate filing the petition would be refunded.
Please enable JavaScript to view this content.