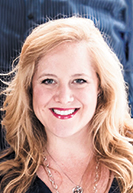 Age: 48
Hometown: North East, Pennsylvania
Residence: Indianapolis
Family: husband, one daughter, three sons
Education: bachelor's degrees in chemistry and biology from Purdue University
Political experience: none
Career: environmental chemist, teaching community science classes
Why she's running: To bring the voice of a scientist, a mom and an authentic leader to Congress. We simply don't have time for politics as usual.
Top priority: solve the climate crisis and guarantee health care as a human right
What she's streaming: no answer
Q&A

What do you think needs to be done to improve access to and the affordability of health care?
I support a universal health care system, specifically Medicare for all. It expands coverage to include vision, hearing and dental health and would include all Americans over a four-year transition period until everyone is covered. Coverage is guaranteed and paid through the same taxes that you currently pay for Medicare. This eliminates co-pays, deductibles and premiums. In addition to the enormous administrative efficiencies that will be gained, we will also have collective bargaining power to stabilize pricing and negotiate prescription drug pricing. A Medicare-for-all system would provide families financial security and eliminate the stress that families experience due to medical expenses and coverage. It would return medical decision-making back to the doctor and patient.
What should be done to address the massive amount of student debt in this country and make college more affordable?
I am in favor of an education-for-all system that forgives student debt and guarantees college or trade school to all who want a higher education. This would be transformative for our nation both economically as well as for innovation, in an age where we desperately need new ideas. We can pay for it without raising income taxes. A small tax on speculative Wall Street trading (50 cents on every $100) would generate enough income ($2.4 trillion over 10 years) to forgive all student debt and pay for college tuition. It would be the best investment Wall Street could ever make.
What is your position on trade and tariffs?
I favor policies that create American jobs while protecting workers' rights and the environment. Companies who operate offshore should be held to the same human rights and environmental standards as we expect in the U.S. There should be no tax incentives whatsoever for offshoring operations or banking.
Tariffs exacerbated the Great Depression and have hurt American farmers and workers in the modern day. Tariffs should not be used as a negotiating tactic. Instead, leaders should roll up their sleeves and get to work on solving problems together. This requires dialogue, not threats.
What should be done to address climate change?
In my climate agenda, I call for real action that will reduce our carbon emissions to zero and help America lead the world in energy innovation. Some of these actions include passing a Green New Deal; implementing a carbon fee at the source; ending all current and future fossil-fuel subsidies; eliminating coal use and investing in green energy, innovation and infrastructure; ending fracking and drilling on public lands; paying farmers to reforest America. Solving the climate crisis will also create tens of millions of new jobs in sectors all across America. It is exactly the stimulus that our economy needs.
Please enable JavaScript to view this content.