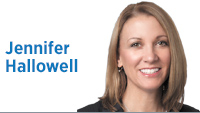 Recently, IBJ's Forefront asked whether Democratic proposals to make college tuition free are a good idea. This is an important debate because it's likely to be a motivating issue for younger voters in the 2020 election.
While the Bernie Sanders and Elizabeth Warren plans for free college and "canceling" student loan debt have most conservative and older voters balking, they appeal to millennials who are burdened with more student debt than any generation before them—in part because college tuition costs have risen significantly.
Debt among young Americans age 19-29 is at its highest level since the recession in 2007, now exceeding $1 trillion. A majority of that debt, according to the New York Federal Reserve Consumer Credit Panel, is student loan debt.
The amount of student debt Americans owe has more than doubled over the past decade. So it's not too surprising that, according to a Bankrate Money Pulse survey, 77% of millennials support some sort of free college proposal.
It's no wonder many people are staunchly opposed to the idea. Why should we have to pay for a loan someone else pledged to pay back? Why should people who already paid their student loan debt now have to pay for others? What about the people who didn't pursue higher education because of the anticipated cost?
The Democrats' proposals to make college free and "cancel" debt might sound good, but they do nothing to address the underlying cause of this issue—the rising cost of higher education.
In fact, if enacted, these policies would likely make the situation worse. Throwing more government money at public colleges provides zero incentive for higher education institutions to reduce their costs, and it shuts out much-needed alternatives, such as technical schools and apprenticeships.
We need to find sustainable, affordable models for young people to pay for college, not saddle taxpayers with even more of the burden.
The good news is, conservatives do have solutions, and we have examples right here in Indiana.
Former Indiana Gov. Mitch Daniels is leading the charge to make college more affordable as president of Purdue University.
Under his leadership, Purdue has cut university operating costs and room and board fees, struck a deal with Amazon to save students money on textbooks, created the "Degree in 3" program to help liberal arts students graduate earlier and save 25% of their college costs, and expanded Purdue's online education offerings. Because of these reforms, Purdue has been able to freeze tuition rates at 2012 levels, saving students and families more than $57 million.
Purdue has also launched the Back a Boiler program that offers an innovative alternative to student loans. Income-share agreements allow students to finance their education by agreeing to pay back a set percentage of their salary after graduating. Under this model, students aren't accruing interest, and repayment is tied to the student's income. The Back a Boiler program is now providing more than $10 million in funding to 850 students.
Indiana's members of Congress have been working to get this model adopted on a national scale. Former congressman Luke Messer and U.S. Rep. Trey Hollingsworth, along with Sen. Todd Young, have been pushing for legislation to provide a legal structure for income-share agreements to encourage other universities and lenders to offer this innovative option.
These are the types of bold and workable ideas that will actually solve our higher education challenges. So let's talk about them.•
__________
Hallowell is president of Hallowell Consulting LLC, a government affairs and communications consulting firm. Send comments to ibjedit@ibj.com.

Click here for more Forefront columns.
Please enable JavaScript to view this content.