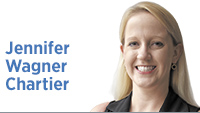 Shot: It's time to get rid of Indiana's restrictions on political fundraising during legislative budget sessions.
Chaser: There's absolutely no reason candidates and elected officials can't report their contributions more quickly, alleviating the need for a blackout period.
Under current state law, candidates for state office are prohibited from raising campaign funds during legislative sessions when the two-year budget is being drafted. The intent is to limit outside influence on the budget-writing process.
Because everyone knows that making a donation within a specific date range creates potential quid pro quo dangers that don't exist if the donation is made outside that specific date range. *eye roll*
The fundraising prohibition came up recently when the Libertarian Party of Indiana accused Republican Secretary of State Holli Sullivan of breaking the law after she solicited contributions as part of a post to Facebook announcing her 2022 candidacy.
Normally, the prohibited period ends when lawmakers adjourn sine die, but they didn't technically do that this year because they have to come back in the fall to tackle legislative redistricting. The governor signed a workaround allowing them to raise funds—but it took effect five days after Sullivan's social media post.
Sullivan admitted her mistake, but this is one of those instances where we need to take a hard look at the reason for the law in the first place and whether—using the marvels of modern technology—we could better achieve that goal another way.
Obviously, we want the biennial allocation of state funds to be an open and honest debate about what Hoosiers need and how best we can meet those needs using taxpayer dollars. We don't want lobbyists or outsiders buying their way into huge handouts.
However, as noted above, it's a tad naive to think that prohibiting donations during the budget-making process is somehow going to prevent those conversations—and contributions—from happening before or after that process.
Please forgive the cliché, but if we're trying to prevent shady pay-for-play situations, sunlight remains a pretty great disinfectant.
Instead of focusing on timing, let's make the process more transparent by requiring donations be reported within seven days of receipt so they go straight into the cool, searchable campaign-finance database on the Secretary of State's website. That way, reporters, watchdogs and political hacks can get their paws on that information right away instead of waiting months for a semiannual or annual report to be published.
Yes, this might be annoying for candidates and campaigns that will have to timely report every contribution, but it shouldn't increase the administrative burden on the back end. After all, we already have a "large contribution" rule that requires candidates to report any donation over $1,000 within 48 hours if it's made during a certain time period before a convention or election.
I'm not going to say that increased transparency is somehow going to solve the problem of money and influence in politics, but it would make it much easier for the outside world to quickly and easily witness who's giving how much to whom—all year long.•
__________
Wagner is a lifelong Indianapolis resident and owner of Mass Ave Public Relations. Send comments to ibjedit@ibj.com.

Click here for more Forefront columns.
Please enable JavaScript to view this content.