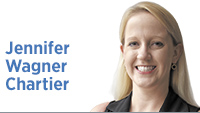 The local political slating process is alive—but not well—after this month's primary election, where two slated candidates came up way short when all the votes were tallied. One was a down-ballot countywide office; the other was a hotly contested race for an open state Senate seat.
As a former party hack, I should be sad to let go of a process that, hypothetically, results in the selection of a candidate that's aligned with party values and also is the likeliest to win.
The theory behind slating is that an internal selection process prevents ugly primary battles and allows the allocation of resources to a single campaign. Any infighting stays in the family; no one needs to see the fissures.
If all of that sounds like the kind of malarkey doled out by people in power who want to stay in power, you might be on to something.
I was traveling recently with a group of aspiring local candidates, and one of them compared slating to prom, where the cool kids select other cool kids to be part of the court while the nerds chill at the back of the room.
I use that word "selection" deliberately because that's what slating is: The party, which is made up of people who've "paid their dues," selects the winner. That process conjures up images of smoke-filled back rooms filled with old white dudes deciding whose time has come and who stays on the bench.
That's different from an "election," where everyone who's registered to vote and willing to pull a partisan ballot can have a say. Elections are messy, and they can cost a lot of money, something that's hard to come by for Democrats at the state level where I used to work.
So, it can be tempting to buy into the patriarchal narrative that the party leaders know best. The trouble is that, when one party has all the power, the selection process can leave qualified candidates who don't kiss the ring—or even know there's a ring that needs kissing—out in the cold.
There were four exceptional Democratic candidates who ran in the aforementioned contest for Indiana Senate District 46. All of them were women, two of them women of color. Only one of them went through the slating process and, to no one's shock, received the party's backing. The party then poured tens of thousands of dollars into her campaign. She finished in second place on election night, trailing the winner by a huge margin.
Now, we could sit around and say that slating is still effective because the top-ticket countywide race—a battle between the sitting county party chair and a former elected official—went to the party chair who oversaw the slating process that slated her.
Or, we could just re-read that last paragraph and come to the conclusion that slating's time has come and gone. Marion County has been trending Democratic for some time, which means many of our primary elections are actually general elections.
Instead of pouring all that cash into picking winners and losers, we could open up the proverbial Big Tent to political newcomers who can make us stronger as Democrats by sharing their vision for the future.•
__________
Chartier is a lifelong Indianapolis resident and owner of Mass Ave Public Relations. Send comments to ibjedit@ibj.com.

Click here for more Forefront columns.
Please enable JavaScript to view this content.