Gov. Eric Holcomb vetoed a bill that banned transgender athletes from playing on school sports teams that align with their gender identity. Should the Legislature overturn the veto?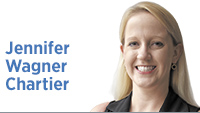 Seeing is believing.
More specifically, in the world of advocacy, once you see something—or someone—it becomes much more challenging to pretend or insist that an issue or person isn't real.
According to a 2015 GLAAD survey, the number of Americans who reported knowing or working with someone who is transgender doubled from 8% in 2008 to 16% in 2015. Last year, the Pew Research Center found that 42% of Americans reported personally knowing a transgender person.
Those percentages are still much lower than the roughly 90% of Americans who report knowing someone who is gay or lesbian, but the trend line is moving in the right direction.
Transgender youth and their families were under attack this legislative session, victims of a bill that would have banned trans girls from playing K-12 sports at any level. Numerous organizations, including the Indiana High School Athletic Association, lobbied against it. Republican Gov. Eric Holcomb ultimately vetoed it, setting off criticism from many within his own party. Utah Gov. Spencer Cox, also a Republican, vetoed similar legislation.
The Republicans who brought forward this legislative solution in search of a problem have vowed to override Holcomb's veto. That's what happened in Utah. But if and when they do, they will have to face—once again and quite literally—the young people whose lives they are seeking to regulate.
It is a very different thing to opine about the [nonexistent] dangers of trans girls playing sports than to say those things directly to those girls and their families, who have shown up time and again to defend them in a way most cisgender people cannot even begin to imagine. There in the halls of the Statehouse, face to face, it's possible for a connection to occur.
Once you have that connection with someone, you cannot un-have it. And once you are connected to a person or to an issue that affects someone you care about, you become more vigilant. Something you maybe never thought about before clicks when you see it over and over.
A few weeks ago, I was flipping through a newspaper photo gallery of a student protest at a local high school over bullying and violence that the students said had gone unchecked by school administrators.
I work in the K-12 space, so I read a lot of K-12 news, but I stopped scrolling when I saw a photo of my daughter's friend's older brother, who came out as trans a couple of years ago. In that instant, the photo gallery became more than a photo gallery. It made me think of how supportive his parents have been—but also how many LGBTQ+ youth do not have family support when they come out. I thought about the sports ban. I thought about how despite best efforts, Indiana still doesn't offer protection from discrimination based on sexual orientation and gender identity.
All of that sprang into my brain from one photo, from just one connection.
That's why it's so important that groups like the ACLU of Indiana continue to organize and show up at the Statehouse with the Hoosier kids and families who would be directly and negatively affected by legislation that often feels like it was written in a reality vacuum. Not only do those students deserve to be seen, their rights and futures may depend on it.•
__________
Chartier is a lifelong Indianapolis resident and owner of Mass Ave Public Relations. Send comments to ibjedit@ibj.com.

Click here for more Forefront columns.
Please enable JavaScript to view this content.