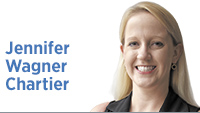 In his push to transform the city's urban core from "India-no-place" into a thriving residential and tourism destination, former Indianapolis Mayor Bill Hudnut loved to say, "You can't be a suburb of nothing."
He was right, and his vision in the 1980s and early 1990s came true—professional and amateur sports teams, big conventions, a new downtown mall and growth in residential development.
But that was three decades ago, and by all measures, the suburbs that grew up around Indy's revitalized epicenter are having their own moment in the spotlight.
In a recent ranking of 100 suburbs, Carmel, Fishers and Noblesville were rated three of the top five safest communities in the nation. Joined by Brownsburg, they also were among the 10 most affordable; housing costs in those four suburbs were less than 17.5% of the median household income.
Not enough to convince you Indianapolis needs to work in partnership across county lines? Check the trend lines.
U.S. Census data show that the share of Americans living in the suburbs grew 10.5% from 2010 to 2020—before the pandemic drastically changed our work patterns.
According to a recent Bank of America survey, roughly 45% of millennials expect to buy a home in the suburbs. Commercial real estate giant CBRE reported that, last year, urban retail vacancies surpassed suburban retail vacancies for the first time since 2013.
When it comes to our city and the suburbs Mayor Hudnut once spoke of, the former is no longer nothing, but the latter is most definitely something.
Talk of increased collaboration is nothing new.
Organizations like the Indy Chamber and the Central Indiana Corporate Partnership have long been focused on economic development in the nine-county region, not just the state capital.
Indianapolis has partnered in the past with suburban leaders to seek funding for regional transportation solutions, and city leaders recently called for a new way to distribute road funding they say could bring $49 million more to Marion County and $96 million regionally.
Funding is critical, but we might also need to dig deeper and find out why younger generations are moving back to the suburbs they once shunned. Cost of living? Sense of community? Amenities?
For those who choose Indianapolis as home, do they identify as residents of the city as a whole or more with their neighborhood or township or city-within-a-city in the case of Speedway and Beech Grove? How might that affect planning efforts over the next decade?
Given that both Indianapolis mayoral candidates already are spending hundreds of thousands of dollars on negative ads, this might not be a conversation city leaders can have until after the November election, but whatever comes of that battle royale, one thing is clear: We can't operate in a vacuum as we look toward Indy's future.•
__________
Chartier is a lifelong Indianapolis resident and owner of Mass Ave Public Relations. Send comments to ibjedit@ibj.com.

Click here for more Forefront columns.
Please enable JavaScript to view this content.