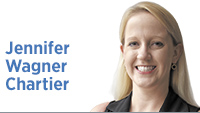 When you give people space to opine about whatever is on their mind, the subject matter oftentimes turns negative. Especially when it comes to politics.
So, instead of whining and moaning, I want to use this month's column to thank Downtown Indy Inc. for a recent survey it sent out about living and working in the city's urban core.
I don't know how it's planning to weigh the results, but it was nice that the organization asked folks whether they live downtown in a rental, as a homeowner or not at all. The survey asked a similar question to sort those who work downtown from those who own businesses—and those to whom neither description applies.
The survey delved into what kinds of activities respondents are engaged in and how often they engage in those activities. And then it offered a ranked-choice priorities question that included options related to safety and security, aggressive panhandling, activation of public spaces, beautification and shaping the downtown narrative through marketing outreach.
Finally, more specific questions asked respondents to pick their top three issues. For example, increasing the tree canopy, addressing concerns related to dockless scooters and bikes, developing the White River, or increased lighting and underpass improvements.
The survey took less than five minutes to complete, but, as someone who has lived and worked downtown for the better part of two decades, I felt like the questions were very much in touch with the issues local residents and workers are facing.
A few weeks ago, a man likely suffering from mental illness chased me down Market Street loudly screaming obscenities. I ducked into one of the office buildings until he passed, off to shout at the next unwitting passerby. Was I actually in danger? Probably not, but the experience stuck with me the rest of the day.
I've said a million times that safety is a feeling, and for the most part, I've never felt unsafe downtown. I know how hard past and current administrations from both sides of the aisle have worked to make sure the center of our city is a true centerpiece. I've never been prouder of sleepy little Naptown than when we hosted the Super Bowl and showed everyone just how best the Midwest can be.
Safety, at its core, is about trust: knowing there are people looking out for one another and that anyone who attempts to do harm will quickly be intercepted and stopped. Trust takes time to build, and it can either be shattered in an instant or slowly chipped away.
It feels like the latter has happened, and it gives me great hope that the folks at Downtown Indy are keyed in on the things that need to be done to earn back that trust. They also seem to understand that it's not just going to be one thing that does the trick.
There are folks in our neighborhood who are keen on the idea of allocating billions to bury the north split of interstates 65 and 70, which most of us can see or hear from our yards. That might help, but is it the best use of federal funding, the likes of which we might never see again? Would we be better served improving public lighting, fixing up sidewalks or relocating the train tracks that cut off the east side and hover over the southeast quadrant? Can we do it all?
And most important, what do those who currently live, work and play downtown—along with those who'd consider it—want to see happen?
Kudos to Downtown Indy for being proactive and reaching out to the community it serves. It's going to take time, but I'm confident, to borrow a phrase from the White House, that we can build back better together.•
__________
Wagner is a lifelong Indianapolis resident and owner of Mass Ave Public Relations. Send comments to ibjedit@ibj.com.

Click here for more Forefront columns.
Please enable JavaScript to view this content.