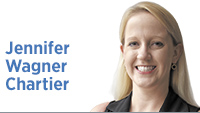 Can we have a conversation about transit?
No, not the conversation that's happening at the Statehouse right now, where a handful of local Republicans—traditionally the party of small government—are having a grand old time trying to usurp authority from municipalities across the state and specifically here in Indianapolis. They've authored legislation to take over the police department, restrict zoning and regulate transit.
Those bills are politically motivated distractions crowding out what we should be discussing: Why is transit important, and are we designing a system that best meets the needs of our community?
I will be the first to acknowledge that I am not an expert in this area. While I always try to use mass transit when I visit other places, I drive my own vehicle or walk when I am here. Basically, I'm just a taxpayer who wants to make sure our resources are going to serve the greatest number of people, especially those for whom public transit is a need, not a want.
And that's where I start to have questions about IndyGo's Red Line—and the proposed Blue and Purple Lines. The Red Line had a bumpy rollout, and ridership, even before the pandemic and when the service was free, lagged behind projections.
To quote Central Indiana Regional Transportation Authority Board President Bill Ehret in a recent interview, "I think it's way too early to call it a failure. I think it's way too early to call it a success."
I get that. Change takes time, and bus rapid transit is one piece of the puzzle. It's worth noting that the referendum to fund these additional lines also included upgrades to the overall system. But we don't make policy decisions in a vacuum or with limitless resources, and the pandemic has taken a toll on state, local and family budgets. So let's take a step back and ask why we invest in transit to begin with.
First and foremost, we have a duty to ensure those who don't have access to their own vehicles have access to employment, food and other vital services. Those often wind up being our lower-income residents and seniors. We have to build a system that works for them.
We want to reduce our carbon emissions, and IndyGo should be commended for its commitment to solar energy as well as hybrid and electric buses.
Finally, it would be great if more people relied on mass transit instead of driving their own cars, but this requires long-term behavioral change and should not be placed above the other two priorities.
The question we have to answer is whether continuing to invest in a traditional fixed-route system with full-size buses is the way of the future, especially as new technologies come online.
Last month, a Michigan-based company announced it will launch a six-month autonomous shuttle pilot project in Indianapolis and Fishers later this year. It will be open to the public.
Other cities and private companies have explored microtransit, where riders can use smartphone apps or other platforms to request rides either on-demand or along fixed routes. Microtransit fleets often include shuttles or minibuses instead of full-size buses.
We started looking into bus rapid transit back in 2012. It's been six years since we kicked off the Red Line. And let me be clear: I'm not saying we shouldn't pursue the Blue and Purple Lines. But I'm also completely fine taking a step back to look at potentially more efficient, user-friendly alternatives, even if that means leaving federal money on the table or asking to allocate it elsewhere.
Unfortunately, the current conversation is stuck in an either/or framework that makes it impossible to consider other options.•
__________
Wagner is a lifelong Indianapolis resident and vice president of communications at EdChoice. Send comments to ibjedit@ibj.com.

Click here for more Forefront columns.
Please enable JavaScript to view this content.