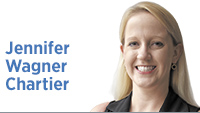 The morning after the 2016 election, I had to catch a red-eye flight to New York City for a work event, so I wasn't able to tell my daughter that Donald Trump had defeated Hillary Clinton.
Instead, I left a note in her room: "Hillary did not win. I am sorry. And we can be sad. But we also should be happy—we live in a country where we can be. America is great because we can disagree. …"
At the time, she was 8 and didn't really understand politics; she was just excited about potentially electing the first female president.
This year, unless something drastic happens, the presidential race is shaping up to be a battle between two old white guys.
Now, I am not someone who votes for a candidate solely based on gender, but it's hard not to want to show—instead of just telling—a young person that she can do the same things boys can when she grows up. What kids see around them as they grow up becomes their reality.
In 2018, the National Bureau of Economic Research released a working paper that examined the effect of having a same-race teacher on students' long-run educational attainment. The Tennessee-based study found that black students randomly assigned to a black teacher in grades K-3 were 5 percentage points (7%) more likely to graduate from high school and 4 percentage points (13%) more likely to enroll in college than their peers in the same school who are not assigned a black teacher.
Last November, the five winners of a national STEM competition for middle-schoolers were all female. I'd bet seeing that story on the news encouraged at least a few girls to push beyond the 1990s Barbie-led stereotype that math class is tough.
If you've spent much time around tweens, you're probably familiar with what I like to call the age of "sameness," where they hide their differences and constantly compare themselves to one another as part of a sorting process that's riddled with self-doubt. That self-doubt lingers and grows and becomes, for many people, the reason why—much later in life—they make the decisions they do.
"What, me, run for office? That's a man's world. You have to be tough as nails."
"I'd like to serve, but I've got a family now."
"It's just so ugly, and I don't think I'm cut out for that."
Every woman I've ever known who's run for office has overcome these hurdles—or some variation thereof. They've had to balance things that men never consider, and they've pursued public service in spite of self-doubt and criticism.
But that doesn't make it easy, and there aren't nearly enough of them.
I was scrolling through my Instagram feed recently and found a photo of my kindergarten-age daughter with City-County Councilor Maggie Lewis. We were at an event to kick off a leadership PAC to help other candidates run for office, and my kiddo was showing off her firm handshake.
She might not have known whether she was shaking hands with the president of the United States or the president of the City-County Council, but there was a confident look in her eye that I wish I could bottle and distribute. She was fearless. She didn't know there were people in the world who use the phrase "like a girl" as an insult. She was the same girl who told me after her experience paging at the Indiana Senate that maybe she and all her friends could grow up to become state senators, too.
I hope they do. But I also hope that, long before they're old enough to run, they've got a lot more role models showing them how it can be done.•
__________
Wagner is a lifelong Indianapolis resident and vice president of communications at EdChoice. Send comments to ibjedit@ibj.com.

Click here for more Forefront columns.
Please enable JavaScript to view this content.