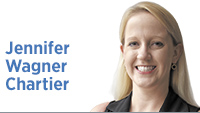 Everything that's happening right now is unprecedented, including the decision to move Indiana's primary election from May 5 to June 2 and to allow all Hoosiers to vote by mail if they want.
For the past six weeks, most of us have been confined to our homes, so the way we're engaging with politics has changed drastically, too.
No one is canvassing neighborhoods or knocking on doors. We're watching more television, including daily briefings from the governor and the White House. I don't know about you, but I actually look forward to getting the mail each day.
I haven't practiced politics full time in years, but there's no small part of me that's wondering how all these changes will affect campaigns and elections this year and into the future.
Will we find out that there were far easier ways to get in front of voters than spending Saturday mornings pounding the pavement? Will candidates who might normally have benefited from in-person hobnobbing suffer because their town halls have gone virtual? Are people more eager to pick up their phones?
There's no telling how the pandemic will affect things in November, but we'll learn some of these answers in a few weeks.
Primaries can feel sleepy when there are no contested statewide races, but all eyes will be on the 5th Congressional District, where more than a dozen candidates are vying for the Republican nomination.
Several Statehouse races are worth watching, including the campaign in former Indiana House Speaker Brian Bosma's district and a state Senate primary in Bloomington pitting Indiana Democratic Party Chairman John Zody against former congressional candidate and Monroe County Council member Shelli Yoder.
These are races where the primary is pretty much the general election, so what happens in early June will likely determine who takes office in January.
The fact that everyone can vote by mail is a huge game changer, especially given that the campaigns have an extra month to send out and chase down absentee ballot applications. GOTV or "get out the vote" efforts on Election Day will still be important, but if you can lock those folks in now, you don't have to worry about them not showing up on June 2.
What I'll be watching most closely is whether allowing everyone to vote by mail increases turnout, which typically is pretty dismal in primaries.
If we can pull off an election under difficult circumstances in which everyone is allowed to vote remotely, perhaps we can finally have the conversation about making that the standard instead of the exception.
Regardless of whether you do so in person or by mail, please make sure you actually cast a ballot, even if you don't think your vote counts because you don't have any interesting races to follow.
Politics has never been a spectator sport, but now more than ever, we need to pay attention to how the people who will be in charge of regulating our economy, schools and health care intend to do so.•

Click here for more Forefront columns.
Please enable JavaScript to view this content.