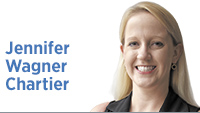 "Careful the things you say, children will listen. Careful the things you do, children will see and learn. Guide them along the way, children will listen. Children will look to you for which way to turn." —Stephen Sondheim, "Into The Woods"
What's your first memory of a political campaign or debate?
Mine was at the age of 8 voting for Michael Dukakis in our fourth-grade mock election. Pretty sure I liked his name and the fact that everyone else voted for Bush.
My better half remembers a presidential debate between Bill Clinton, Bob Dole and Ralph Nader in 1996 that left him believing all races would have third-party candidates.
For her first real memory of politics, it's entirely possible my nearly teenage daughter will register last month's on-stage clash between President Trump and former Vice President Joe Biden.
"My seventh-grade classmates would be better than these guys," she remarked about halfway through the 90-minute bleep show that left commentators on both sides slack-jawed and organizers desperate to change up the format for the remaining debates.
I noted at one point that it might be easier to resolve a heated PlayStation 4 disagreement between my daughter and her 8-year-old brother than to moderate the two grown men sharing the stage in Cleveland. Poor Chris Wallace, we all agreed.
"They just keep interrupting each other," she pointed out, joining the ranks of millions of exasperated viewers across the country and around the world. The next morning, she reported on our drive to school that Trump had interrupted Biden 40 times, and Biden had interrupted Trump 16 times, according to YouTube.
We sighed.
Like so many parents, I've wondered what effect Trump will have on the generation of voters who are not yet able to cast a ballot but have come of age watching a president lash out at every critic and tweet more than any world leader should.
They are watching him, and they are watching us watch him.
"You can tell your history teacher that you witnessed the debate with a liberal Democrat and a conservative Republican, and both were shocked," I told my daughter as we flipped off the television.
After she went up to bed, we sat on the sofa, exhausted.
Have we finally—after four painful years—reached the point where enough is enough? Where we can no longer discount behavior we'd tolerate from literally no other elected official because it's just "Trump being Trump"? Where we commit to decency if only because our nation and our children deserve a better role model?
This isn't the democracy we want our kids to see, and make no mistake that our kids, who have grown up memorizing the "Hamilton" libretto, want to see democracy.
They are eager to watch how we address the issues unfolding before their eyes: climate change, Black Lives Matter, LGBTQ rights, women's health, equitable access to education.
Careful the things we say. Careful the things we do.
The morning after the 2016 election, I had to catch an early flight to New York City, so I didn't get to tell my daughter in person that Hillary Clinton had lost. I left a long-since-forgotten note that said, in part, "America is great because we can disagree. … The sun will rise, and we will figure things out."
We have another chance to figure things out in a few weeks, and I hope we'll do right by the next generation.•
__________
Wagner is a lifelong Indianapolis resident and vice president of communications at EdChoice. Send comments to ibjedit@ibj.com.

Click here for more Forefront columns.
Please enable JavaScript to view this content.