Carmel Mayor Jim Brainard, who has overseen the city's transition from a traditional suburb to a destination city with a new downtown and more roundabouts than any other U.S. community, announced Tuesday that he will not seek an eighth term in office in 2023.
Brainard's decision to step aside means the Hamilton County city will have its first new mayor in more than a quarter-century following next year's election. He made the announcement during a press conference at Carmel City Hall.
Brainard, 68, said leaving office has been on his mind for several months. He added that while he is leaving public office, he is not retiring and plans to enter the private sector.
"I've often been asked to offer advice on matters of city design development, sustainability and livability, and I look forward to possibly helping other communities and business sectors learn from Carmel's success," he said.
Carmel has grown and changed tremendously during Brainard's seven terms as mayor.
The city's population increased from about 30,000 residents in 1996 to more than 100,000 people, while Brainard oversaw the redevelopment of some of Carmel's most prominent areas, including the Arts & Design District, City Center and Midtown.
"When I first ran for mayor, I knocked on thousands of doors and asked people what their hopes and dreams and aspirations were for the city," Brainard told IBJ in May. "I heard a lot of things, but one thing I heard was we didn't have a downtown."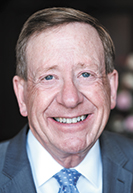 Downtown Carmel now features shops and condos near the Monon Trail, while the 1,600-seat Palladium concert hall and a 500-seat theater called The Tarkington highlight the Center for the Performing Arts. The city is also home to more than 150 corporate headquarters.
Brainard, a Republican, might be best known for Carmel's transition to a city with more than 130 roundabouts—more than any other city in the United States. He says they are practical, good for the environment and reduce serious crashes.
"I see these things continuing," he said Tuesday. "I see future leadership building on this base and continuing to make this the premier [medium-sized] city in the Midwest, in the United States."
Brainard was first elected in 1995 when he successfully challenged Republican incumbent Ted Johnson. He's faced a primary opponent in the Republican-heavy suburb in every subsequent election, but none came close to defeating him.
In 2007—the last time Brainard had a general election opponent—he received 66% of the vote against Democrat Henry Winckler and independent Marnin Spigelman.
Brainard has been criticized for heavy spending on development projects, the amount of debt Carmel has accrued and the number of public-private partnerships the city has undertaken. However, he has argued that spending is necessary to improve the city's quality of life, which helps attract corporate headquarters.
Brainard is Carmel's longest-serving mayor. No candidates have publicly announced their intention to run for the open position.
Brainard's term will end Dec. 31, 2023. He said there are still a few projects he hopes to see through to completion before he leaves office, but he's ready to hand his position off to someone else.
"I'm 68 years old, I'll be 69 where the term ends," Brainard said. "I was talking to some friends, and I said, 'Well, I have three or four projects, maybe I will run again.' And then it suddenly occurred to me I could probably be 98 and have three or four more projects I'd like to see, and so I thought you know I have to take that sort of thought out of the equation. Carmel is in good footing. It's in a good place right now."
Please enable JavaScript to view this content.