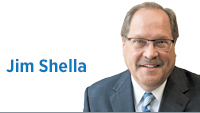 I had a busy travel schedule last month, and while I was home on July 4, I see a freedom theme to my trips.
It starts with the trip to my Minnesota hometown for the 50th reunion of the Jasper High School Class of 1972. (I won the prize—a map—for traveling the farthest.)
In a sign of how rural America is on the decline, the reunion actually took place in another town. See, Jasper High School closed and, since it was the biggest employer in town, almost everyone in my class moved away. Jasper has shrunk considerably, and most of the businesses are shuttered.
Nevertheless, it was great to connect with old friends and see where life has taken them. The story I will remember most came from a classmate who admitted to being a bully when we were in school. In particular, he liked to pick on another of our classmates, a farm kid who came to school in work clothes.
The former bully wanted to share with me and some others that he had an encounter with the farm kid a few years ago. He approached him to start a conversation and the farm kid backed up, holding up his hands and saying, "I don't want trouble!"
"I want to apologize for how I treated you," my friend said. "I'm truly sorry, and I mean it from the bottom of my heart."
I didn't see that coming.
Several times at the reunion, I was asked about Mike Pence and my experiences with him. I thought to myself that it was ironic, because he's the farm kid in the insurrection story. We just heard from the Jan. 6 committee about how Donald Trump bullied Pence, calling him a "wussie" and telling him he didn't have the courage to throw out electoral votes.
I have no expectation that Trump will learn and grow and come to the conclusion that he was in the wrong, as my friend did.
Despite that, other July travels bolstered my belief that America and the American people will overcome. I also drove to a nephew's wedding on the other side of Minnesota. My nephew is a fighter pilot in the Air Force. His best man, another nephew, is also a fighter pilot. Both are graduates of the Air Force Academy. One is based in England, the other in Okinawa, Japan.
They were joined by other members of the military that day, and it was a joy to hear about the sacrifices they share to keep our country free. I heard no discussion of politics at the wedding, no mention of what might be wrong with the United States.
And, finally, my wife and I finished out the month by making the journey to a wedding in Philadelphia. Our hotel was literally across the street from the Liberty Bell, within sight of Independence Hall.
On a hot Saturday morning, long lines began forming early, both in front of the Liberty Bell and in front of Independence Hall, where the Declaration of Independence and the Constitution were signed. There is nothing very remarkable about either one of those sites except that they are symbols of our democracy. People from around the world are there every day to be reminded of that.
Trump tried to overturn that democracy and came perilously close.
My wife and I got in line, too, because we felt the need to celebrate our country and its ability to stand up to a bully, even if that bully will never get it.•
__________
Shella hosted WFYI's "Indiana Week in Review" for 25 years and covered Indiana politics for WISH-TV for more than three decades. Send comments to ibjedit@ibj.com.

Click here for more Forefront columns.
Please enable JavaScript to view this content.