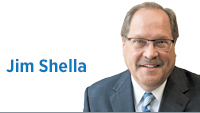 Donald Trump is bugging me. I know, I know, you're saying he bugs you, too. Or, maybe you're a Trump supporter and you already quit reading. But what I'm telling you is that Donald Trump is TRYING to bug me. He wants money.
Somehow, my email address got on a list for the Trump campaign. It's not because I made donations in the past. I have never donated to a candidate from any political party and never will. It's not something journalists do.
That doesn't stop politicians from asking and Trump is not the first. But he's going about it in unique—shall we say, overbearing—fashion.
The other day, I got an email notifying me that I "have been identified as one of President Trump's BEST supporters … ." Obviously, it's a form letter and I suppose some people fall for this stuff. I was told in the email that, if I made a donation within an hour, it would receive a "500% match. $42 could become $252," it said. Just a second while I turn off my BS detector.
Hours later, I got an email telling me the campaign just pulled my donor file and it indicated my gift was missing. The word "missing" was in red letters. The email went on to say the president noticed my name was missing and that he is "counting on his best supporters, like YOU, to step up."
Oh, and that 500% match was still available. No indication of what happened to the one-hour deadline.
Later, I got another email about the 500% match and a new one-hour deadline. Signed, Team Trump.
The next day, I got another email, this one signed by President Trump himself asking, "Do you not support me, Friend?" He informed me that the "500% match" was now available until midnight. Then he got personal. "We won't hit our goal without you, Friend," he wrote. "Don't let me down."
Apparently, I did let him down because I soon got another email signed by the president. In this one, he said he was going to do something he's never done before. He promised a "600% match," not 500%, if I donated in the next hour. Take my breath away.
By the way, there is never any mention of where this matching money is coming from. Do you think it's real? Just asking.
Oh, and he wants to see my name on the next donor list.
The subject line on that email was, "I've never done this before." But then he did it again. Literally minutes later, I received the same email with the same subject line making the same empty promises.
I will say the new one-hour deadline was apparently real because when I received my next email, the "600% match" was gone, replaced by the indefatigable "500% match."
All of these messages arrived in little more than 48 hours, shortly before the second-quarter deadline for donations. The Trump campaign clearly wants to show a big total on upcoming reports.
What I don't get is the desperate and misleading tone. Empty promises verging on threats.
It might be a sign that the campaign has money trouble, but Donald Trump's political future will be determined by other factors in my opinion, things like leadership and vision.
The emails made no mention of those things.•
__________
Shella hosted WFYI's "Indiana Week in Review" for 25 years and covered Indiana politics for WISH-TV for more than three decades. Send comments to ibjedit@ibj.com.

Click here for more Forefront columns.
Please enable JavaScript to view this content.