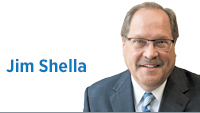 There are lots of lessons to be learned from the 2020 presidential election, and some of them are not yet apparent.
One that I would like to point out is, there is no such thing as a national election. At the risk of sounding like Donald Trump, many people believe elections are run out of Washington, D.C., with federal oversight. The reality is, elections are run by the states, and what happens in one state can be very different from what happens in the next state.
In fact, elections are not administered at the state level but at the county level. That means that, in Indiana, 92 elections are being conducted on the same day. Voting hours are uniform statewide, but there are lots of variables from county to county. Each county issues its own contracts with voting-machine vendors, for example. So, when Marion County was still using lever machines, some counties were already using computer devices, others punch cards.
I point this out to explain why the Big Lie is so absurd.
The "rigged election" that Trump and his followers kept referencing was actually thousands of small elections being conducted across 50 states according to local rules. It would take an easily uncovered conspiracy of mammoth proportions to rig it.
So when Chris Kreisler of the Cybersecurity and Infrastructure Security Agency in the Trump administration called the election "the most secure in American history," he was actually commenting on what he saw from the sidelines. But it appears he was right.
That hasn't stopped Republican lawmakers in states including Indiana to seek changes in election laws designed to discourage Democratic voters in the name of tighter security. They say there is a "crisis of confidence" in our elections. A crisis, by the way, that they and Trump created based on nothing except a desire to deny an election loss that will stand for eternity.
This all leads me to two conclusions. First, I have faith in America. We survived a Trump presidency that could have produced calamity (and, if you consider the pandemic, maybe did) and we did so because record numbers of voters turned out to bring about a change. Democracy works. Even if you claim it doesn't.
Second, having said that, I believe our democracy might be as fragile at the moment as it has been in centuries.
Russia is attacking our way of life in subtle and constant ways through social media and more. Meanwhile, China is positioning itself to become the world's leading superpower by using authoritarian rule while our leaders in Washington pick sides based on tribal upbringing and fight one another.
When Frank O'Bannon was elected governor of Indiana at the turn of the century, he spoke often of "forming a government." I thought at the time that he was using hyperbole, because a government was already in place and he was, in my mind, reshaping it a bit.
The U.S. Capitol insurrection on Jan. 6 and other recent developments point out how quickly things can change. Our democracy is under attack from the inside.
And so, as I watch what I believe are misguided efforts to change election laws, I continue to hope a majority of Americans will do what's necessary to keep this country on track.•
__________
Shella hosted WFYI's "Indiana Week in Review" for 25 years and covered Indiana politics for WISH-TV for more than three decades. Send comments to ibjedit@ibj.com.

Click here for more Forefront columns.
Please enable JavaScript to view this content.