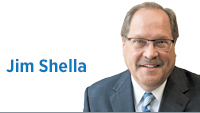 2020 is a year marked by conflict. Donald Trump versus Congress, public health officials versus politicians, police versus George Floyd … . I could go on, but you get the idea.
In Bloomington, however, some people are actually working to bring folks together in the most unlikely setting.
It starts with Don Byrd. He's retired from a career in information technology, a Democrat who felt the need to find out what makes Republicans tick.
He set out in 2017 to establish a not-for-profit with the not-so-humble goal of unifying a divided nation.
He needed a Republican partner to get things off the ground and couldn't find one.
That's when he called the Monroe County Republican Party and asked Chairman William Ellis if he could suggest anyone. Ellis, who is also a member of the Ellettsville Town Council, offered himself. Keep in mind that he's in the minority in Monroe, the bluest of Indiana counties.
Together, Byrd and Ellis formed Better Angels. Even that created conflict, as someone sued them over copyright infringement; they had to change the name of their organization to Braver Angels. Nevertheless, Braver Angels is not only in operation, it has a national membership of about 10,000 people, according to Byrd.
So, what does this organization do?
It pairs Republicans with Democrats and then conducts weekly lunches, monthly meetings, workshops and debates in the effort to battle the political polarization that is fueled by social media, cable TV and politicians.
The idea is to find common ground, search for truth and understanding, and build a working alliance to convince people that it is OK to simply agree to disagree.
The organization's website (braverangels.org) points out a 2018 Hidden Tribes report on a survey of 8,000 people that found that, among seven categories ranging from conservative to liberal, 56% of people are in the middle. Call it the "exhausted majority." And 77% believe differences can be overcome.
A typical Braver Angels workshop features 12 people—six Republicans and six Democrats. They begin by listing negative stereotypes they hold about the other side. (At one such workshop, a Democrat accused Republicans of being racist. A Republican accused Democrats of being baby killers.)
They then sit down for a discussion of why they feel the policies promoted by their party are best for the country. They also talk about problems they have with the viewpoints of fellow party members. Then they search for things Republicans and Democrats have in common. It's a format that was designed by a professor of family therapy—and one participant described the results as "amazing."
People are noticing. MSNBC did a feature on one of the workshops, leading Ellis to joke that his first TV appearance was on a cable channel that sides with the Democrats.
Beyond the small group encounters, Braver Angels has created principles for politicians. One encourages politicians to engage opponents' best arguments, not their worst.
Principles for the media include a direction to avoid guests who only repeat talking points. (I endorse that one.)
Byrd says of Republicans and Democrats, "We just see the world so differently." But, he says, both have "good intentions."
Ellis says the focus needs to be on core values that members of both parties share, "so we do not see each other as 'the other.'"•
__________
Shella hosted WFYI's "Indiana Week in Review" for 25 years and covered Indiana politics for WISH-TV for more than three decades. Send comments to ibjedit@ibj.com.

Click here for more Forefront columns.
Please enable JavaScript to view this content.