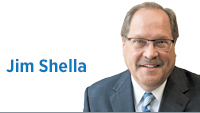 On a warm September evening in 1989, I found myself standing on a platform In Charlottesville, Virginia. I was next to a CBS reporter. We were both covering President George H.W. Bush's Education Summit and the reason I remember it clearly is because that network reporter looked into a camera and spit out the closing lines of his story over and over again, as many as a dozen times.
Meanwhile, I got just one opportunity to get things right.
Great care was given to the effort to make his story perfect, down to the last inflection. Back then, the network would record the remote on-camera portion of a story (known as a standup in the trade), then play it back as if it were live. Newscasts were flawless.
In local TV, we were already doing our newscasts live, both the in-studio and remote portions of the show. The networks soon followed suit.
It was a lowering of production standards that is still ongoing. Soon, home video became popular and news broadcasts began to include, on occasion, video recorded and submitted by viewers. A colleague of mine liked to call it "Uncle Fred" video. It wasn't always in focus and was often poorly framed with too many zooms and pans. It always looked like Uncle Fred shot it.
Then came smartphones and, suddenly, not just Uncle Fred had a camera but so did all his kids. TV stations began using submitted video on a regular basis and reporters were assigned to use their phones to shoot video themselves. Don't wait for that professional photographer to get the shot, they were told. In fact, several years ago, TV stations began hiring multimedia journalists, or MMJs. That's a fancy word for a reporter who gets to shoot his or her own video, a one-man band.
TV executives argued that viewers who were used to watching the poor-quality video on their phones and social media sites wouldn't notice that the professional product was no longer high-quality.
Recently, "60 Minutes" used camera-phone video to show the chaos inside a New York hospital ICU as medical professionals battled the coronavirus pandemic.
And that gets me to the dramatic lowering of broadcast standards now taking place as TV stations try to figure out how to cover the pandemic with sources and reporters forced to adhere to stay-at-home orders.
Skype and FaceTime interviews are commonplace. Subjects are poorly lit and poorly framed and often the audio quality is rough. We're all getting used to the grainy shot of an interview subject looking down into his or her laptop. Signals are lost, mics go quiet and screens go black. But the work goes on.
The moral to the story is not that TV is now flawed and substandard. It's that content matters.
Whether the video was shot by Uncle Fred, an MMJ or an iPad, you get the information you need to know. Professional journalists are still the ones sorting through the events of the day, lining up the interviews and organizing the broadcasts, and that matters.
And I'm no longer jealous of that guy in Charlottesville who got 12 attempts to do what I did in one. I just didn't realize that a flawless broadcast was about to become a thing of the past. We're all better off.•

Click here for more Forefront columns.
Please enable JavaScript to view this content.