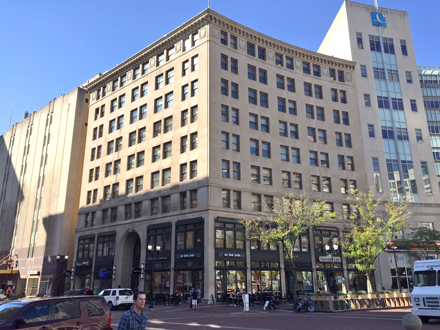 Jobvite Inc. has moved its headquarters from San Mateo, California, to Indianapolis and plans to boost its local workforce by about 200 employees by the end of 2024, it announced Thursday.
The recruiting technology company, which entered the local market with a single-employee office in 2014, began growing its Indianapolis operations after acquiring Canvas Talent Inc. in early 2019.
The company said it will base its expansion from its downtown offices in the Guaranty Building on Monument Circle, which it opened in 2019.
The Indiana Economic Development Corp. offered Jobvite up to $6.8 million in conditional tax credits based on the company's job-creation plans.
According to the contract signed with the IEDC last month, Jobvite is expected to invest more than $3 million in its local operations and hire 327 people by the end of 2024.
The contract, however, was initially discussed in 2019, when Jobvite had 32 employees. That number will be considered base employment, according to the contract. The company said it has already hired more than 100 people in Indianapolis.
Jobvite provides recruiting technology to attract, engage, hire and retain employees. Its Indiana customers include IU Health, MacAllister Machinery and Lessonly. The company said it facilitated more than 3,000 hires in 2020 for Indiana-based companies.
Jobvite said it plans to hire more Hoosiers in product engineering, sales, marketing, and finance.
"This city is a natural place for global technology companies like us to establish our home base," said Jobvite CEO Aman Brar in written remarks. "We are excited to grow in Indianapolis while expanding our global customer footprint."
Please enable JavaScript to view this content.