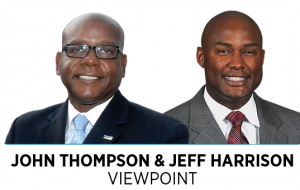 Black-owned businesses are a critical component to the growth of Indiana's economy and can help close the wide gaps in income for Black workers. Investing in Black business enterprises isn't just the right thing to do, it's smart business.
The Business Equity for Indy initiative is a joint venture of Central Indiana Corporate Partnership and the Greater Indianapolis Chamber of Commerce, in collaboration with the Indianapolis Urban League, designed to grow a more inclusive business climate and build greater equity and economic opportunity for central Indiana's Black residents and other people of color.
Minority-owned business enterprise procurement and participation is one of several of Business Equity for Indy top priorities, with specific interest in increasing corporate spending with Black business enterprises, boosting supplier diversity among central Indiana companies and growing entrepreneurship among Black founders.
The task force dedicated to participation and procurement among Black business enterprises is led by John Thompson, CEO of Thompson Distribution; Craig Reed, chief procurement officer and head of corporate real estate and facility services of Corteva Agriscience; and Ilya Yuffa, senior vice president and president of Lilly Bio-Medicines at Eli Lilly and Co. The task force has launched a BBE Procurement Roundtable. Led by a partnership of the Indy Chamber and Mid-States Minority Supplier Development Council, the roundtable will provide member companies with a number of resources to establish a robust supplier-diversity program, with the support and facilitation of Reginald Williams, founder of the supplier diversity consulting firm Procurement Services Inc.
The Business Equity for Indy Procurement Roundtable will guide companies in creating a supplier diversity program that best meets its needs by focusing on a minimum of eight key best practices. Support for members will include:
Quarterly opportunities to share best practices and learn from leading organizations in supplier diversity.
Access to resources to identify local, diverse suppliers with the capabilities to meet their business's needs.
Facilitation of their investment to help local Black-owned businesses and businesses owned by other people of color grow and scale.
Early supporters of the roundtable currently include Citizens Energy Group, Corteva Agriscience, Cummins, Eli Lilly and Co., Engaging Solutions, Eskenazi Health, Indianapolis Airport Authority, Indy Black Chamber, Indiana University, JQOL, Kheprw Institute, Ivy Tech Community College and Thompson Distribution. Over the next 12 months, BEI Procurement Roundtable members will focus on shrinking the wealth gap, advancing racial equity, and transcending to economic viability for business enterprises owned by Black people and other people of color in central Indiana.
Central Indiana companies interested in joining the Roundtable can attend a kickoff webinar scheduled for Aug. 26 from 2 p.m.– 3:15 p.m. To register or for additional information, visit indychamber.com/business-equity-for-indy/ or contact Stacia Murphy at smurphy@indychamber.com.
Thompson is chairman and CEO of Thompson Distribution Co. and co-chair of Business Equity for Indy's procurement and participation task force. Harrison is president and CEO of Citizens Energy Group and chair of the Business Equity for Indy Committee. 
Please enable JavaScript to view this content.