Indianapolis businessman John Thompson is the new chairman of Indiana Chamber of Commerce board of directors.
He is the first African-American to lead the chamber board and is the CEO and chairman of four businesses, including Thompson Distribution and First Electric Supply. Over the years, he also has built an equally impressive resume for volunteer service and philanthropy.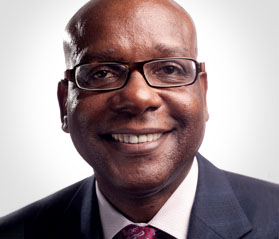 A polymath whose interests range from art collecting to entrepreneurship, he has served on the boards of a lengthy list of organizations, including Indy Chamber, the Central Indiana Corporate Partnership, the Indiana Economic Development Corp., the Greater Indianapolis Progress Committee, the Eskenazi Health Foundation and Riley Children's Hospital Foundation.
He also is a member of Business Equity for Indy, which focuses on growing a more inclusive business climate.
Thompson grew up in a Baltimore housing project, one of eight children. He would go on to earn a chemical engineering degree from Cornell University and an MBA from Columbia University.
"John embodies all of the qualities of a vibrant and forward-thinking entrepreneur, and he's been highly engaged on public policy initiatives that impact the state's prosperity and future," said Kevin Brinegar, the Indiana Chamber's president and CEO. "We are well positioned as an organization and also excited to see where John's leadership can take us in the next year."
Thompson is one of 12 central Indiana area business leaders among the 22 new Indiana Chamber of Commerce Board of Directors.
They others are: Katie Argus, chief financial officer of BCforward (Indianapolis); Mike Ash, regional president of Fifth Third Bank (Indianapolis); Matt Koscal, senior vice president and chief administrative officer of Republic Airways (Indianapolis); Randy Kron, president of Indiana Farm Bureau, Inc. (Indianapolis); Staci Kroon, president and CEO of BraunAbility (Carmel); and Kristina Lund, president and CEO of AES Indiana (Indianapolis).
Other central Indiana business leaders on the board are: Rebekah Payne, partner, Indianapolis location leader of MCM CPAs & Advisors LLP (Indianapolis); Josh Plank, partner at WestPoint Financial Group (Indianapolis); Mike Ryan, president and CEO of USIC LLC (Indianapolis); Rupal Thanawala, managing director of Trident Systems (Fishers); andTrent Torrance, COO and executive vice president, international division of United Animal Health, Inc. (Sheridan).
Please enable JavaScript to view this content.