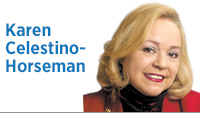 Two men are fighting on the street. President Biden runs up and demands that the men cease fighting. The men continue to fight. But within minutes, behind Biden stand men with weapons drawn and pointed at the two men. Seeing that they are outnumbered and outflanked, the two men cease fighting.
Protestors demanding that Biden order Israel and Hamas to cease fighting fail to realize that, unless he can add the caveat "or else," such a demand will do little good. And the "or else" necessary to gain the attention of both sides is to threaten them with the loss of something significant.
The threat of cutting aid at this juncture is not going to be enough. The threat of physical retaliation to the side that refuses to stop fighting is the only threat that will get their attention, and that brings down a whole set of other problems.
While I do not like how Israel has dealt with the Palestinians in the past, I do not believe Hamas is entitled to declare war on the innocent—babies, children, the elderly and those Israelis who were in Gaza working to help the Palestinians. Hamas was and is not entitled to parade women through the streets in their underwear and later rape and decapitate the women.
Even if Hamas were to agree to a cease fire, we would be fools to take them at their word. The primary objective of Hamas is to kill the Jews and take back Israel. The only cure to the cancer called Hamas is for the people of Palestine to rise up against Hamas, and this they are either unable or unwilling to do. While members of Hamas are Palestinian, they are not Palestine, and it is Palestine that can most effectively remove Hamas as a threat.
Hamas has no love for the people of Palestine. Hamas hides behind the innocents, gambling that the better nature of Israel and their allies will prevent them from killing the human shield that protects Hamas. They encourage the use of defective weaponry and—when it destroys a hospital filled with the sick, the injured and those seeking shelter—Hamas uses the incident to further inflame anger against Israel by claiming the missiles had been fired by Israel.
Does Netanyahu need to go? You bet. His corrupt practices and his replacement of skilled and qualified government officials with people whose only qualification is their friendship or symbiotic relationship with Netanyahu has led the people of Israel to pay a horrific price. When this strife comes to an end, I will not be surprised or dismayed when he is voted out of office.
But in the interim—maybe it is my advanced years; maybe it is my deep cynicism developed practicing law and seeing the evil people can do to one another; or maybe it's the history of Hamas itself—demanding a cease fire is going to do nothing. To make such an argument is naive and dangerous, as it further divides our country in a time we need to be united.
I hope and pray that Hezbollah, Lebanon, Syria, Iran and Iraq remain on the sidelines. Hamas would do well to remember what the Quran says happens to evildoers who commit atrocities such as those committed by Hamas: "Behold! The curse of Allah is on those who do wrong!" (Hud: 18). Until Palestine rids itself of Hamas, Hamas will be the curse borne by Palestine.
May God and Allah protect us all.•
__________
Celestino-Horseman is an Indianapolis attorney. Send comments to ibjedit@ibj.com.

Click here for more Forefront columns.
Please enable JavaScript to view this content.