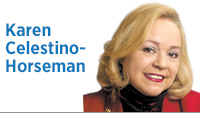 Sheltering in place for the last year taught me a lot about myself. I am single with no children and no family in Indianapolis, so I was very alone. Having so much time for introspection, here are a few things I learned about myself:
1. I am the world's biggest procrastinator. Before the pandemic, I complained about not having time to declutter my house. The universe gave me the gift of a year to complete the task, so how much did I get done? Nothing. As the pandemic draws to a close, I am engaging in a frenzied Swedish death cleaning—clearing my house of years of accumulation so my friends and family do not have to do it when I pass.
I have finally realized that I have no idea what tomorrow might bring so I need to do what I want done today. This is an extremely hard lesson for a procrastinator and one I am still learning. In fact, I wrote this column at the very last minute.
2. I hate cleaning house. Before the pandemic, I did not like house cleaning, so I had a cleaning woman. I did not realize the depth of my hatred for cleaning until this pandemic required me to regularly do it myself.
I tried to make it a game. For example, having four dogs, I did not sweep one corner of my living room for a month just to see how much dog hair accumulated. Disgusting, right? But when you live alone in isolation, finding in-home entertainment is a challenge. Once I finish my Swedish death cleaning, I am hiring a cleaning woman.
3. After drinking two glasses of wine, I should not look online at rescue dogs needing homes. Through the years, I have adopted senior dogs with medical conditions so they can live their last years in comfort. I had the brilliant idea one night, while drinking wine, of looking at posts of dogs needing a last home. I did it not once but twice (some lessons are simply hard to learn). As a result, my pack of two dogs grew to four. I love them all, but, if I am not careful, I am going to be labeled an animal hoarder, so no more looking at dogs while drinking wine.
4. My dogs can converse. Being alone with no one to talk to, I have had some profoundly serious conversations with my dogs. While they slept through most of the conversations, I have come to realize that my dogs can communicate effectively. They let me know when their water bowl is empty, when they want to eat, when they want to go outside, when they want to snuggle and when they want to go to bed. Being old and infirm, they want to go to bed a lot.
5. People are pretty much willing to do anything for 15 minutes of fame. I began regularly watching reality-TV shows. I had no idea the lengths people were willing to go to be on television. My reality-TV phase did not last long—although I am still watching three "Real Housewives" franchises (I tell myself it is to see the fashions, hair and makeup).
My biggest lesson now looms. I enjoyed having time to be introspective and the challenge will be to make sure I have that time once the pandemic ends—after I finish my Swedish death cleaning and cleaning the house before the cleaning woman comes.•
__________
Celestino-Horseman is an Indianapolis attorney. Send comments to ibjedit@ibj.com.

Click here for more Forefront columns.
Please enable JavaScript to view this content.