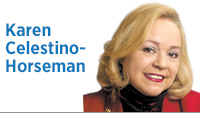 "Impatience" is defined as "the feeling of being annoyed by someone's mistakes or because you have to wait." The determination that someone else made a mistake is completely subjective, meaning one can become impatient because of another's perceived mistake, even if that person made no mistake.
We are now living in the age of impatience. Airline passengers are punching flight attendants who tell them they must wait to use the restroom until after the seatbelt sign is turned off. Drivers are shooting other drivers whom they perceive as having made a mistake. Americans are mad at the president, who has been in office less than a year, for not getting everything returned to the way it was before the pandemic.
People jump on the "side-with-the-(alleged) victim" bandwagon before they have heard the facts from both sides. Progressives want change now and conservatives want as little change as possible, each convinced the other side holds mistaken beliefs.
Impatience has grown due to our increasing refusal to acknowledge that, as individuals, we might share in the blame. To preserve this illusion, we decide the problem must be the fault of someone else. Sometimes, as hard as it is to accept, the finger of blame cannot be pointed at a single individual or group. Sometimes, things happen due to a confluence of factors, and blame should not be focused on one person or group. What we should focus on is fixing the problem.
But fixing a problem takes time, and we no longer want to wait. Instead, we eat up our emotional energy by getting angry and letting loose at whatever or whoever happens to be at hand, whether it be a flight attendant, another driver, the president, a political party, or an accused. Not only is this a waste of energy and time, but the relief it brings is only the temporary draining of anger that will once again emerge, leaving us impatient again.
Seeing the impatience in others has led me to start dealing with the impatience in myself. When I am stuck in a line of traffic (as often happens due to road construction), I force myself to acknowledge that getting angry will not get my car moving any faster. Instead of pointing the finger at an accused or those with whom I disagree, I try to hear both sides. It's not always easy, but emotionally, it is much easier on my soul.
However, everything has its limits and, try as we might, we cannot be perfect. But the next time you feel impatient, ask yourself if there is anything you can do about it. If the answer is no, just keep moving forward and save the energy for when you need it.
In the disturbing year of 2020, I learned to keep putting one foot in front of the other, taking solace in the prayer, "Grant me the serenity to accept the things I cannot change, the courage to change the things I can, and the wisdom to know the difference."
It's far easier to get angry and let that anger loose on others rather than work to implement change in ourselves. But unless we work to this end, the age of impatience will continue to endure.•
__________
Celestino-Horseman is an Indianapolis attorney. Send comments to ibjedit@ibj.com.

Click here for more Forefront columns.
Please enable JavaScript to view this content.