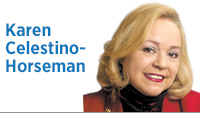 In 1923, D.C. Stephenson was named Grand Dragon of the Indiana Ku Klux Klan at a July Fourth gathering in Kokomo that drew over 100,000 Klansmen and their family members. In 1924, Stephenson supported Republican Ed Jackson for governor. Jackson had previously served as Indiana's secretary of state and, during his tenure, had granted a legal charter to the KKK.
Running against Jackson was Carleton B. McCulloch, an anti-Klan Democrat. He lost.
The KKK was committed to bringing down African Americans, Catholics and Jews. It is estimated that, from 1921 to 1928, 27% to 40% of native-born white men in Indianapolis paid money to join the KKK. But Indianapolis was not alone. It is estimated that a third of native-born white men across Indiana joined the KKK.
The growth of the KKK in Indiana was crippled in 1925 when Stephenson was charged with the rape and murder of Madge Oberholtzer. After Gov. Jackson refused to pardon Stephenson, Stephenson implicated Jackson in a bribery scheme. He accused Jackson of, while serving as secretary of state, offering then-Gov. Warren McCray money to appoint Klansmen to various positions. While Jackson was not convicted, his political career was ruined, and he left office in disgrace. Stephenson was sentenced to life in prison.
This is the history we need to teach our children so we never forget what might have happened. The only reason the KKK did not take over Indiana government was the hubris of men like Stephenson and Jackson, who sought power over anyone at any price. Our children need to learn that going along to get along can lead to major ramifications and negative consequences. Men and women such as Carleton McCulloch, who spoke out against the KKK, need to be remembered as people of courage whose positions were later vindicated.
But how can we remember the heroes if we refuse to acknowledge the enemies?
Was it white Protestant men and women who belonged to the KKK? Was it white people who were slave holders? Was it white people who made my mother and her family be served from the back door of a restaurant? Most definitely yes. Is the lesson intended to teach white children to feel guilty? Of course not. Is the lesson intended to point the finger of blame at all white people? Most definitely not.
What we and future generations can learn from this history is that even our neighbors and family members are susceptible to the pressures of evil thinking and then later providing justification for their actions.
Many Hoosiers who joined the KKK claimed they did it for business and social reasons. But the bottom line remains that, no matter the reason, like the Germans who joined the Nazi party and later claimed they did not know about the death camps, our Hoosier antecedents directly and indirectly contributed to a dark chapter in history.
This is Indiana history. We might not like it, but we should not deny it. As Winston Churchill said, "Those that fail to learn from history are doomed to repeat it." It is from history that we learn our past, its link to our present and insights into the future.
Teach our children the mistakes we and those before us made and maybe, just maybe, our evil history will not repeat itself, and our children can learn how to become heroes.•
__________
Celestino-Horseman is an Indianapolis attorney. Send comments to ibjedit@ibj.com.

Click here for more Forefront columns.
Please enable JavaScript to view this content.