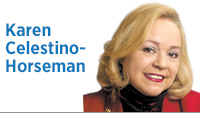 Texas has enacted one of the most restrictive laws regulating women's reproductive rights in the country. No abortion can be performed if a "fetal heartbeat" can be heard and that can allegedly occur six weeks after conception. This means that, as of 14 days after a woman misses her menstrual cycle—a time when many women do not realize they are pregnant—she may be prevented from making a choice. Never mind that, at six weeks, the fetus does not have a heart and what is seen are electrical charges and the sound is made by the ultrasound machine and not a "heart." Since when have facts stopped legislators?
But the law is even more heinous because it promotes vigilante enforcement. Any Texas citizen can sue the provider for performing the abortion after the "fetal heartbeat" is heard, regardless of whether that person has any relationship with the female patient. Typically, enforcement of such laws is done by the state, and it is the state that is sued to declare the law unconstitutional. In this case, because there is no cognizable person or entity to be sued, a 5-4 majority of the U.S. Supreme Court refused to maintain the status quo by staying the law pending resolution of the constitutionality of the law.
The law, which provides no exception for incest or rape, means the 12-year-old girl who does not fully understand how her body works will be forced to bear the child of her rapist. It means that women who used contraception that failed will have no recourse. It means that women without the financial wherewithal will be unable to travel to other states to exercise their choice. It means the women and girls in Texas are without a choice as to their bodies and their futures.
Meanwhile, despite spiking COVID-19 infections, the same governor who signed the anti-choice legislation also banned mask mandates because such mandates intrude upon the right to choose to go without a mask. Vaccine mandates are not enacted because of the intrusion upon the right to choose to be unvaccinated. Failure to be vaccinated and/or not wear masks leads to deaths. So why the differences in treatment between a woman's right to choose and the choice to avoid COVID-19 prevention?
The only distinction that I can see is that the latter impacts men and women while the former impacts only women. State legislatures are male-dominated. Texas Gov. Greg Abbott is a man. It's rather like the fact that insurance companies are allowed to cover Viagra (therefore enabling men to impregnate women) and are not required to cover birth control (making it difficult for women to get protection against pregnancy). Do you see the pattern?
The refusal to stay the law from taking effect by the Supreme Court has given hope to those who oppose choice. In Indiana, Republican legislators are already talking about passing a Texas-type law. Given that Republicans have a majority in both the Indiana House and Senate, they could likely pass such a law and it could happen as early as next year.
So, what's to be done? It's time to speak up and publicly take a position. Let your elected officials know you will accept nothing less than recognizing a woman's right to choose. Take the first step to make your voice heard and join us Oct. 2 for the Reproductive Rights Rally. You can find the details at facebook.com/events/216570970451281.•
__________
Celestino-Horseman is an Indianapolis attorney. Send comments to ibjedit@ibj.com.

Click here for more Forefront columns.
Please enable JavaScript to view this content.