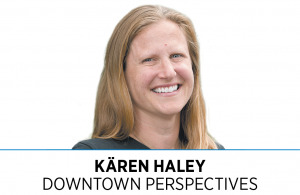 By putting so much emphasis on downtown Indianapolis as the place we go to work five days a week or focusing on it only as a collection of sporting, concert and convention venues, we overlook an important fact: Downtown is a neighborhood, or more accurately, a collection of neighborhoods, each with its own unique charm and qualities.
With this oversight, we miss the opportunity to recognize, celebrate and promote downtown as a vibrant residential hub that is essential to the city's long-term vitality.
Indianapolis has wisely invested in making downtown a great place to visit and a well-regarded location for special events, but we should also invest in making our downtown neighborhoods great places to live. Furthermore, as we talk about bringing people back downtown, we should acknowledge that thousands of people live downtown, albeit maybe not in the central business district. Those downtown residents patronized our downtown restaurants and retail establishments throughout the pandemic so that the rest of us can continue to enjoy them today.
Our downtown residents help to make downtown thrive. They spend their money downtown. They pay property taxes to Marion County. And they bring the streets and sidewalks to life each day of the week.
Overlooking downtown's residential life means ignoring an asset that can play a significant role in our attraction-and-retention strategy for both businesses and individuals. For example, when major downtown corporations recruit people from all over the globe to come to Indianapolis, many of them will be won over by downtown neighborhoods that make it possible to bike or walk to work and live here without a car, just like in New York, Chicago, San Francisco or Paris.
To build on the attractiveness of the downtown residential sector, we should invest more in the kind of quality-of-life amenities we enjoy and seek out in other cities, like parks and open spaces, playgrounds, public art and public restrooms. We also should continue to add housing density, which will attract retail businesses that cater to downtown residents. And guess what? Visitors want these amenities, too.
For proof of how such investments can lead to more growth, consider the fact that there are now three grocery stores within the Mile Square. Three! Only a few years ago, there was only one. Downtown offers plenty of other signs that residential development and density are growing fast, and the pipeline of development projects that include residential units suggests that this growth won't slow anytime soon.
People tell me all of the time, "The Cultural Trail has made it possible for me to raise my family downtown." And that's what we should invest in: a place where people can raise their families, where they can age in place and where they can easily connect their home lives to their work, their education, their entertainment and more. I've seen firsthand how the investment in something like the Indianapolis Cultural Trail: A Legacy of Gene and Marilyn Glick resonates with these desires by creating one of the most pedestrian-friendly downtowns in the country.
The pandemic underscored the importance of being a resilient city. Our downtown residents played a big role in the resilience of downtown Indianapolis, and they will be essential for the city's long-term vitality. So, yes, we should continue to promote the city as a destination for visitors, but we also should support and encourage the neighborhoods that make downtown what it is. Failing to do that could mean failing to survive the next major calamity.•
__________
Haley is executive director of the Indianapolis Cultural Trail Inc.
Please enable JavaScript to view this content.