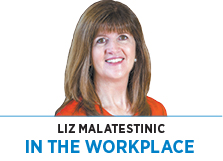 I was reminded recently that we are entering the "ber" months of the year (September, October …).
Given the seasonal changes of increasingly shorter days and colder weather that these months bring, the description is appropriate. Many people experience declining levels of energy and mood as winter sets in, and these seasonal changes can have an impact in the workplace, as well.
While some who have been working from home might have enjoyed a bit of an emotional reprieve in the summer months by having small, socially distanced gatherings, venturing out to stores or occasionally eating at restaurants, things are about to change.
Given this year's "pandemic fatigue," it is likely that some employees working from home might begin to experience feelings of isolation again as the cold keeps people indoors more and socializing less, potentially leading to higher levels of stress, burnout and depression.
Many of us hoped things would be "back to normal" and that we would all be back in the office by August or so, but that clearly hasn't been the case. Morgan Stanley recently published research that predicts "roughly 40% of U.S. workers will continue working from home in the near term."
And while some employers are tentatively making plans to bring some employees back to the office, it is uncharted territory. These employers are proceeding cautiously, estimating social distancing and sanitizing requirements, as well as their employees' attitudes on returning.
On the other hand, some well-known employers such as Salesforce, Facebook and Twitter have already made it clear that employees can choose to work from home until at least next summer.
So, as we head into the "ber" months, it is time to start thinking about ways to keep people engaged and socially interactive. It is worth noting here that improving employee engagement is not only good for employees' mental health and feeling of connection to others, it is also good for the organization.
As a 2018 article in The Wall Street Journal pointed out, companies with engaged employees are more profitable; specifically, companies that ranked in the top 10% for employee engagement "posted profit gains of 26% though the last recession, compared with a 14% decline at comparable employers." Those same companies also "thrived through the recovery: Their annual profits in 2014-15 grew four times as fast from the 2011-13 period as did those of other companies."
Creating a sense of belonging can go a long way toward creating that sense of engagement, but it can be a little more challenging through a computer screen. Virtual work requires a different effort and level of interaction that might feel awkward if we all saw one another on a daily basis. As one comment on social media accurately noted, why do most of us wave goodbye as we end a Zoom call? We would never do that as we left a conference room. But most employees aren't meeting in conference rooms right now, so it's time to think a little differently.
You've probably heard this before, but asking employees to turn cameras on in virtual meetings can have a big impact. Reassure them that you don't care what they are wearing; you can even consider theme days, focusing on sports or holidays.
Some companies take it even further, having photo contests for the best vacation picture or best Zoom background, or guessing the identity of their colleagues' baby pictures. Trivia contests are popular, too.
Prizes can also be virtual—electronic gift cards for stay-at-home services like DoorDash or Grubhub would be apropos.
It would also be a good idea to schedule 15-minute "coffee breaks" with individual employees or small groups. Let them know there's no agenda, and that it's just a check-in to see how people are doing. Creating these virtual water-cooler moments can definitely help stave off feelings of isolation.
If just part of your workforce is coming back to the office, it can be even more important to make these engagement efforts to keep your workforce cohesive. A situation in which remote workers experience FOMO—fear of missing out—can damage morale and engagement long term. That diminished engagement, in turn, can hurt your bottom line.•
__________
Malatestinic is a senior lecturer in human resource management at the Indiana University Kelley School of Business at IUPUI.
Please enable JavaScript to view this content.